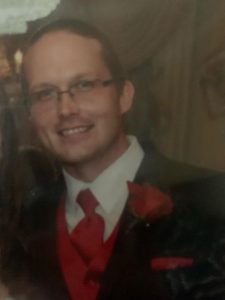 Jason Leggett-Wilson, 35, left this beautiful earth on October 1, 2021. He was a resident of League City, TX.
Jason will forever be missed by his wife, Brittany, and two precious daughters Ariel (6) and Meredith (4). He is also survived by parents Tahana Wilson and Tim Wilson, birth mother Connie Garnto, sister Shannon Deanan and husband Chris, his nieces Alyssa Sealy and Charlotte Leggett-Wilson, nephew Nicholas Sealy, mother in law, Elizabeth Smalley, father in law Greg Chappell, sister in law Cailyn Chappell, and brother in law Nicholas Smalley. Three dogs and three cats miss their morning coffee and nighttime movie buddy. He was preceded in death by his beloved grandparents, his favorite feisty dog, Samson, and recently departed guardian dog, Layla. Countless cousins, friends, co-workers, and neighbors are also mourning him.
Jason was a long term employee of SGS where his work ethic set the bar for all who met him.
Jason will always be remembered for the light, passion, and humor that he brought to this world. He is the other half of his wife's heart and soul and a perfect father. He was the rock of his family, and he went above and beyond in everything that he did. He never hesitated to help a person or animal in need. Over the past several years he and Brittany participated in frequent fitness events including running their first marathon together and striking up a love for triathlons. Animals have been a regular part of their lives together, and Jason helped to heal and rehabilitate several foster pets. Jason also enjoyed brewing his own beer, martial arts, traveling, music, and trying new hobbies. He could always find a way to conquer a challenge. He was never ashamed to put on a costume or crown, have his nails painted, and have a princess tea party or dance off just to see his two baby girls smile.
Prayer was a daily part of his life, and heaven has gained the most amazing angel.
Visitation will be at St. Bernadette Catholic Church on El Camino Real in Houston, TX at 10:30 am. A funeral mass will follow at 11:00 am. Private burial will occur at a later date.
Jason strongly believed in charity and donations, so in lieu of flowers please consider making a donation to the St. Bernadette Christian Action.