Janie Margaret (Jones) Gimenez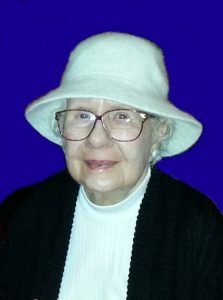 Janie Margaret (Jones) Gimenez, 86, of Bayou Vista, passed away peacefully on July 21, 2017.
She was born in Galveston on January 27, 1931 to William and Esta Jones. Janie graduated from
Dominican Catholic High School in June 1948, and was married to Frank at St. Patrick's Catholic Church two months later, on August 25. They moved to La Marque in 1953 where they raised their family and were active members of Queen of Peace Catholic Church. For the last few years, she attended Mass at St. Patrick's Church as it held many loving memories. Janie spent most of her life as a devoted wife and volunteer mom for her children's school and athletic activities including football, baseball, dance, cheerleading, and drill team. She also found the time and energy to earn a degree as a registered nurse and to work at Mainland Hospital. Additionally, she and Frank owned A-1 Air Conditioning, Refrigeration and Heating Supply in La Marque for thirty years.
Janie was preceded in death by her husband Frank W. Gimenez (1990), sisters, Vergile Russell  and Doris Palmquist, and her brother William B. Jones, Jr.
She is survived by their ten children, Genevieve and husband Joe, Doug, Randy, Mark, Chris and wife Dee, Guy and wife Mary, Joy and husband John, Alicia, Tess and husband Mark, and Dan and wife Christi. Janie is also survived by twelve grandchildren, Melissa, Laura (and their mother Jackie), Cristen, Jeff (and their mother Sandra), Clay, Cole (and their mother Brigitte), Colin, Matt, Will, Alexandria, Alaina, and Charlotte and three great-grandchildren, Merritt, Anthony and Willa.
The family would sincerely like to thank her loving daily caregivers from Safe Harbor Care -Lisa, Jennifer, Alyssa, and owner Debbie Full. They also wish to express their gratitude for the respectful and understanding care given by her physicians Dr. Rhea Lozado, Dr. Sapa Pham, and Hospice care givers Stacy and Frances from A*Med.
A visitation will be held from 5:00pm to 8:00pm at James Crowder Funeral Home in La Marque on Tuesday, July 25, 2017 with the recitation of the rosary at 7:00pm with Deacon Robert Standridge officiating. Funeral Mass will be held at Wednesday, July 26, 2017 10:00am at St. Patrick's Catholic Church with Father Orrin Halepeska officiating.
Entombment will follow at Mt. Olivet Catholic Cemetery, Dickinson, TX.
Pallbearers will be her six sons.