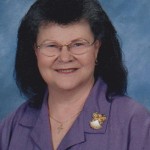 Janice Ovella Haddican, age 73 peacefully entered into eternal rest on April 26, 2014. Janice was a devoted wife, loving mother and Gran; which is what the grandkids affectionately called her. She loved spending time with the grandkids, reading books, doing crafts, or just snuggling in the chair watching TV. Although Janice had 14 grandchildren and 8 children, she touched the lives of hundreds more. Janice loved to volunteer at the school where her children were attending. She was an active part of the PTA, which earned her the special honor of lifetime member, and was known around campus as the "Picture Lady". Her love for children went far beyond her own family. Throughout the years she was a CCE teacher, a Montessori teacher, and the Director of Little Children's church. Every child was always greeted with her warm and loving smile and there were always plenty of hugs to go around.
Janice also enjoyed getting together with friends to play games such as Bridge, Bunco, and Mexican train. Janice's hobby was cross stitching, and each event was marked with a new masterpiece. She also enjoyed traveling the World with St. Bernadette's travel Club. She visited places such as the Vatican, the Holy Land, and Lourdes.
Janice was greeted in heaven by husband Pat, her parents Emile and Essie Ovella, and her daughter Susan. She is survived by her children: Wendy Richerson, Dawn Alexander, Paula Lucas, Amy Haddican, Patrick Haddican Jr., Jill Stevens and Jeanie Davis; sister: Barbara Sauer; brother: E.J. Ovella, 14 grandchildren, 4 son in laws and numerous other family members. Janice will be remembered for her loving heart, kind and gentle spirit and her acceptance of all.
A visitation will be held on Tuesday, April 29, 2014 from 6:00 PM to 8:00 PM (Rosary at 7:00pm) at Crowder Funeral Home – Webster. A Mass will be held on Wednesday, April 30, 2014 at 10:00 AM at St. Bernadette Catholic Church, 15500 El Camino Real, Houston, TX 77062.
In lieu of flowers, those wishing to make a memorial donation in Janice's memory may do so to St. Jude Children's Hospital. Please send to: St. Jude Tribute Program; P.O. Box 1000, Dept. 142, Memphis, TN 38148-0142.