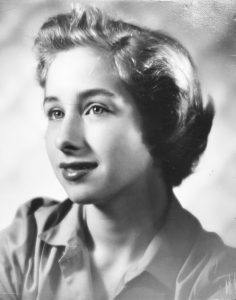 Janice Bueno de Mesquita died peacefully surrounded by her family at her home in Clear Lake City on January 30, 2018. She was born in Galveston, Texas, on December 18, 1941, the daughter of Clare Mallini Bueno de Mesquita and Dr. Paul Bueno de Mesquita. Janice graduated with highest academic honors from Ursuline Academy. From an early age she excelled in music and as a young adult became an accomplished classical pianist. She majored in the humanities with a concentration in theological and religious studies at Loyola University in New Orleans, Louisiana, where she especially enjoyed intellectual pursuits including philosophy and ethics. At Loyola she was a resident of Immaculata Hall and a member of the Catholic women's sorority Theta Phi Alpha. Janice later undertook advanced studies and continuing education at the Carl Jung Center in Houston, Texas, with a focus on Jungian psychology and analysis. She was a life long biblical student of Judeo-Christian values and heritage. Throughout the years Janice committed herself to a virtuous and deeply contemplative way of life modeled after St. Ignatius of Loyola. She firmly believed in and lived her life according to the principles of Ignatian spirituality: ad majorem dei gloriam, service to God, and cura personalis, unconditional regard for the body, mind, and soul of all human beings, particularly the needy and less fortunate.
Deep faith and profound spirituality were central to Janice's life. A founding member of St. Bernadette Catholic Parish in Clear Lake City, she devotedly engaged in various stewardship ministries including Habitat for Humanity, Christian Action Food Pantry, Church Choir, Children's Faith Formation, and seasonal Plant Ministry. In addition to her religious service activities, Janice enjoyed all cultural, visual and performing fine arts, holistic health nutrition, Holy Land travel, and family genealogical and Sephardic historical research.
She is survived by her loving sister Anne Elizabeth Lunde of Clear Lake, brother Paul Bueno de Mesquita and his wife Kay of Kingston, Rhode Island, and their two sons, nephews Jacob Bueno de Mesquita of College Park, MD and Cliff Bueno de Mesquita of Boulder, CO. She will be missed by all who knew and loved her, including nearby cousins Charles and Nancy Mallini of Friendswood, Pat and Tommie Mallini of Galveston, and distant cousins in the US, Canada and the UK.
Janice was especially grateful for the tenderness and love of her long-term caregivers, Mary Bernadette Martinez, Juanita Perez, and Rebecca Blum, and the compassionate support from the professional staff of A-Med Hospice, especially Leeann Hart.
A funeral mass to celebrate Janice's life will be held at 2:00PM on Saturday, February 3, 2018 at St. Paul the Apostle Catholic Church, 18223 Point Lookout Dr., Nassau Bay, TX 77058 with Fr. Dominic Pistone officiating. Burial will be at Mt. Olivet Catholic Cemetery in Dickinson.