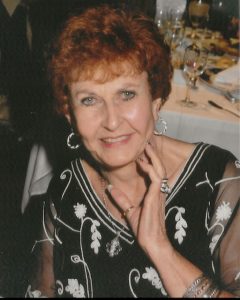 Janette Goudeau Lawrence passed quietly in a local hospital in the presence of family on April 30, 2023.  Jan was preceded in death by her parents, Karl and Tillie Goudeau (natives of Avoyelles Parish, Louisiana); brothers, Harry, Murphy, George, and Jack Goudeau; husband, Doug Lawrence; grandson, Alex Davis; and beloved partner, EJ LaVergne.  She is survived by her son, Stephen Davis and wife, Sandy Fromberg, of Kingwood; by grandson, Matt Dunkin and his fiancée, Heather Webster, of Katy; by granddaughter, Lauren Davis of Santa Ana, California; and by many other extended family members and friends.  A special recognition goes to her nephew, George Goudeau, Jr., who served as her caregiver at her long-time home in Dickinson in recent years.  And we would be remiss not to mention that Jan leaves behind five wonderful Ragdoll cats, all of whom she adored and thought of as practically her children.
Jan was born on July 14, 1935, in Houston, the last of five children and the only girl among her siblings.  She was always proud of her Cajun surname and heritage and of her birth on France's national holiday, the date that commemorated the glorious storming of the Bastille.  She grew up on the North Side, attending Jeff Davis High School.  Jan worked for many years at Texas State Optical and later in a doctor's office as a nurse and receptionist.
Jan was a beautiful woman who was fiercely independent, consistently dignified, and notoriously feisty.  To the end of her days, she would colorfully express exactly what she thought, not hesitant to call out those closest to her.  This always came from a place of love which all who knew her well understood.  Jan exemplified the Cajun cultural imperative to "laissez les bons temps rouler."  She loved to drink and dance with her friends, whether in clubs, on cruises, during Mardi Gras, or on pilgrimages to places like Fred's Lounge in Mamou, Louisiana.  Jan loved the Hotel Galvez and its Sunday brunches.  She cherished every gridiron victory of the LSU Tigers and New Orleans Saints.  We will always remember the simple pleasure of spending time with her while she read the paper, watched the news, and drank strong black coffee.  Jan was a magnificent cook and we can only hope her recipes for gumbo, dirty rice, and spaghetti sauce long survive her passing.
Jan's was a well-spent life, lived to the fullest over the course of 87 years.  A memorial service will celebrate that life with great music and warm memories on Wednesday, May 10, at 4 p.m. at the Crowder Funeral Home in League City.  In lieu of flowers, please consider contributions to the Cajun Bandstand program on radio station, KPFT.