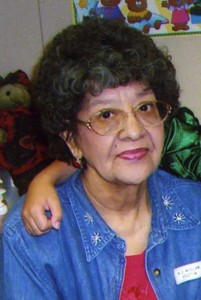 Jane Henry, 77, of Santa Fe, Texas passed away December 3, 2014. She was born December 10,1936 to Victor and Barbara Navarro in League City, Texas. Jane loved her family and her grandchildren and great grandchild were the light of her life. She is preceded in death by her parents, her first husband, Frank Henry, her 2nd husband, J.T. Wallin, a daughter Angie Stevenson, and a brother, Joe Navarro.
Jane is survived by her daughter, Debra Jones and husband, David; son, Robert M. Henry; sisters, Mary Cortez and husband Robert, Doris Sawyer and husband Tom, and Barbara Velasco and husband George; brothers, Jesse Navarro, Sr. and wife Irene, and Victor Navarro, Jr. and wife Lisa; grandchildren, Eric Jones and wife Chelsea, Morgan Ortiz and husband Rogelio, Dean Jones, Noah Jones and Isabella Stevenson;; great granddaughter, Emma Ortiz; and numerous nieces and nephews.
Honored to serve as pall bearers are Eric Jones, Noah Jones, Kenneth Navarro, Sr, Dean Jones, Jesse Navarro, Jr., and Terry Lee Navarro.
A visitation will be held in her honor, Monday, December 8, 2014 from 5:00 to 8:00 pm, with a Funeral Service to be held Tuesday, December 9, 2014 at 10:00 am, Crowder Funeral Home Chapel, Dickinson, TX. Interment will follow at Mt. Olivet Catholic Cemetery, Dickinson, TX. There will be a reception following the graveside services at Arcadia First Baptist Church, 14828 E. Highway 6, Santa Fe, Texas.