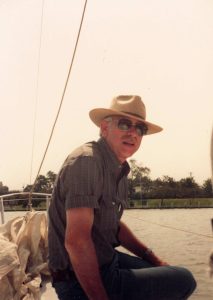 James William Woodall, age 82, of League City, Texas, died peacefully at home with his family by his side on October 28, 2022 following a persistent and valiant battle with colon cancer. His family is comforted by the belief that he is no longer in pain and is reunited with his parents and dear friends who have passed.
James, who went by Jim, was born in October of 1939 in Alabama, the son of Baxter Woodall and Mildred Tate Woodall. The family of three later moved to Tarpon Springs, Florida, where Jim attended high school and worked in his parents' jewelry store. Following high school, he earned a bachelor's degree in engineering from the University of Florida then served as an officer in the Air Force for four years. He was married to his wife, Cindy, for 49 years; together they lived in Florida, California, and Texas. Jim was a father to Tim, Melissa, and Ed. And, grandfather to Jacob, Calista, Maia, and Josh.
Jim's tenacious career included 36 years as an aerospace engineer for Rockwell, later acquired by Boeing, where he contributed to historical space achievements throughout his tenure. Following retirement from Boeing, he continued to serve his community for 10 additional years as an algebra teacher for Pasadena Independent School District where he devoted much time and energy to the advancement of his students. Once officially retired, he volunteered for Armand Bayou Nature Center and Clear Lake Area Writers. His volunteering fed his passion for photography and writing.
Throughout life, Jim loved the outdoors, football, photography, writing, and classic rock. He was often the coordinator of hikes, canoe trips, and gatherings for workmates, friends, and family. Later in life, and often very ill, he still met three times a week, every week, with longtime friends for lunch. He also ensured contact was maintained with lifelong friends from high school and the early days of his career. Above all, Jim consistently loved spending quality time with his family; being a part of his children and their children's lives with his wife, Cindy.
What many will remember Jim for is his wisdom, integrity, wit, humor, and kindness as he undoubtedly made the world a better place through his life achievements, contributions, and time.
Jim was preceded in death by his parents, aunts, and uncles. He is survived by his wife, three adult children and their significant others, as well as four grandchildren, and a cousin.
A celebration of Jim's life will take place on Saturday, December 17th at 2:00 PM at Crowder Funeral Home, 1645 East Main St, League City, TX 77573. To help ensure the service is a celebration of life, please consider wearing clothing that supports your favorite college or professional football team, or wear blue and/or orange in support of Jim's favorite college team, University of Florida – Gators. In lieu of flowers, please consider donating to Armand Bayou Nature Center via their website, www.abnc.org, or to a youth organization within your local area.
Honoring Jim's wishes, a private scattering of his ashes by family will take place at a later date.