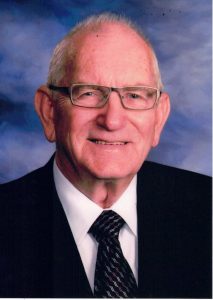 James Taylor Floyd, 89, a resident of Dickinson passed from this life on Thursday, October 5, 2023. He was born on February 13, 1934 in Plainview, Arkansas to parents, Harry Vernon and Lillian Floyd.
He worked as a maintenance supervisor for Union Carbide (Dow Chemical).
James met and married the love of his life, Annette Floyd, and they were together for sixty-nine years. They were blessed with three daughters and one son.
James was a member of Pine Drive and First Baptist Church Dickinson where he served as a deacon and the chairman of the Grounds Committee and worked to rebuild the church. He served his community in many other organizations including the Rotary Club of Dickinson, DCPAAA (Citizens on Patrol), Dickinson Volunteer Fire Department, the Dickinson school board and the Board of The Gulf Coast Center.
He is preceded in death by his parents, his brother, Bob Robert Floyd and sister-in-law, Peggy Floyd.
James leaves behind to cherish his memory, his loving wife, Annette Floyd; daughters, Sandra Lee Althoff and husband, Luther, Helen Kay Koehler and husband, Mark and Dorie (Dodie) Townsend and husband, Mark; son, James Taylor Floyd, Jr.; brothers, David Lynn Floyd and wife, Cynthia and Neil Floyd and wife, Carol; grandchildren, Heather Althoff,  Justin Koehler,  Brandon Althoff,  Bryon Townsend, Hollie Bieber, Sarah Tidwell, Tiffany Althoff, Erin Koehler and Kara Woods,  and ten great-grandchildren, two bonus great-grandchildren, nieces, Sheri and Nancy, and nephews Allan, Jeff, and Kenny.
In his honor, there will be a visitation on Thursday, October 12, 2023 from 5:00pm to 7:00pm at Crowder Funeral Home in Dickinson, Texas. A funeral service is planned for Friday, October 13, 2023 at 10:00am, also at Crowder Funeral Home. Interment will follow at Forest Park East Cemetery in Webster, Texas.
Serving as pallbearers are Mark Koehler, Luther Althoff, Mark Townsend, Justin Koehler, Bryon Townsend, and David Floyd. Honorary pallbearers are Brandon Althoff, Deegan Townsend, and Neil Floyd.