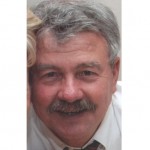 James S. Dean, 62 of Nassau Bay, Texas passed away August 20, 2014.
James is survived by his loving wife Kathleen, mother Frances, brothers Patrick, David and Dewey, sisters Doris, Linda, Deborah and Tammy, brother in laws Homer and Kurt, sister in laws Carol, Brenda and Donna, nephews, John, Patrick, Michael, Donald, Tim, Hank and Bobby, nieces Kim, Roxy, Sabrina, Heather, Stephanie, Beth and Amy.  He adored his 4 grandchildren Colin, Carter, Carly and Lauren.
James graduated from Angleton High School and continued on to Stephen F Austin and the University of Houston where he earned multiple degrees  and majored in geology.
James worked for Atinum Energy Investments. James was a Geologist for thirty-seven years in the oil and gas industry, with the last six years at Atinum Energy. He truly encompassed what a Geologist should be because he loved every aspect of it! He found joy in looking at everything from the simplest well log, to complex prospects – anything that would help improve the company. He was a wonderful colleague and mentor who had lots of advice and expertise to
share. Everyone at the office will truly miss his endless storytelling and the humor he found in everything. His contribution to the company will be greatly missed, but most importantly we will miss his presence.
James was an active University of Houston Alumni involved with the College of Technology and the College of Natural Sciences and Mathematics, Cougar Cookers and the University of Houston Alumni School Supply Drive.
James was an honorary TKE and chapter advisor.   He touched countless lives of many of the University of Houston's finest young men.
A visitation will be held from 6-8pm Friday at Crowder Funeral Home in Webster.  A funeral service will be at 12:30pm Saturday, August 23 at the funeral home.  James will be laid to rest in the Forest Park East Cemetery.