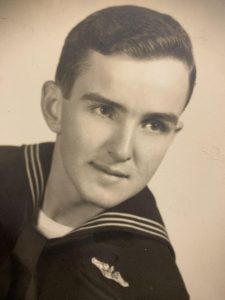 James Richard Grinstead, 89, of El Lago passed away peacefully in his home on January 18, 2020. Richard or "Dick" as he was known to many friends successfully defeated cancer many times over the last twenty years. However, despite his courageous efforts, he finally succumbed to metastatic melanoma. Born in Cincinnati, Ohio March 8, 1930, his family moved to Atlanta, GA where he would attend Marist preparatory school and later Henry Grady High School. It was at Grady High School that he met the love of his life, June. In 1950, he joined the U.S. Navy and became qualified as a submariner. He was quite proud of his service to his country aboard the submarines USS Amberjack and USS Razorback over a period of four years. December 5, 1952 he and June were married in Atlanta, GA. After he was honorably discharged from the service, they raised four kids and countless dogs. His career in sales took the family to Florida, Tennessee, Mississippi, Georgia, and finally Texas. His love of the sea stayed with him his whole life. He was a devoted father, husband and avid fisherman. Richard was also a member of True Cross Catholic Church and the St. Vincent de Paul Society. He was always happy to help those in need. He enjoyed a good laugh more than just about anything and was an optimist in even the toughest times.
Richard was preceded in death by his father, Benjamin L. Grinstead, his mother, Helen Margaret Grinstead, and only sibling, Helen Murphy. He is survived by Patsy June Grinstead, his loving wife of 67 years. He is also survived by four adult children: John Barton Grinstead of El Lago, TX; James Mark Grinstead and his wife Lori of Friendswood, TX; Kim Herzog and her husband Dr. Lonnie Herzog of Atlanta, GA; and Laurie Looper and her husband Chris Looper of League City, TX. He also leaves behind many grandchildren: Kathryn Siiteri and her husband Jordan Siiteri of League City, TX; Andy Grinstead and Ashley Lara of Houston, TX; Mason Mullenhour and Taylor Gibson of League City, TX; Dr. Alex Herzog of Augusta, GA; Nikki Herzog of New York, NY; Dr. Amelia Looper and her husband Scott Lenfest of Porter, TX; Savannah Looper and fiancé Brandon Conner of Katy, TX; Ben Looper and Katie Tansley of Kingwood, TX; and Joe Looper and his wife Hannah of League City, TX. Also surviving are great grandchildren Lyric Mullenhour and Ada Siiteri. He is also survived by his buddy and devoted pup, Champ.
The family would like to express its gratitude to Brenda Truan for her kind and compassionate care for both Dick and June. Her loving care has made a wonderful difference in the quality of their lives.
Funeral arrangements have been made with the assistance of Crowder Funeral Home Dickinson, TX. Visitation and rosary will be at True Cross Church, Dickinson, TX on Friday, January 24 at 9:30, rosary at 10:00 and funeral mass following at 10:30. Interment will be at the Houston National Cemetery on Tuesday, January 28 at 1:45pm.
In lieu of flowers, the family asks that you make a donation to St. Vincent de Paul ministry at Shrine of the True Cross Catholic Church. The mission of the St. Vincent de Paul Society is: " A network of friends, inspired by Gospel values, growing in holiness and building a more just world through personal relationships with and service to people in need." Donations can be mailed to:
True Cross Catholic Church
Attn.: St. Vincent de Paul Society
P.O. Box 687
Dickinson, TX 77539