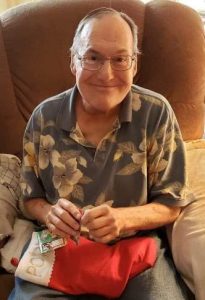 On Sunday, July 14, 2019, James Michael Kross passed away peacefully in his home in Webster, Texas.
James was born on August 18, 1953 in Riverhead, New York to Edward and Alexandra Kross. He was the youngest of four siblings. After graduating from Patchogue High School in 1972, he served three years in the United States Army.
In the early eighties, James moved to Texas. He was united in marriage with Helen Kathleen Kross and to this union two daughters were born, Michelle and Renee. He supported his family by working as a water and wastewater operator until he retired.
James was a Christian who enjoyed sharing his faith with others. He was kind, generous, and loved spending time at home with his family.
James is preceded in death by his wife, Helen. He will be greatly missed by his daughter and son-in-law, Michelle and Frank Alexander; daughter, Renee Kross; his two sisters, Diane Carrigan and Barbara Arabio; one grandchild, Samantha Garcia; and two great grandchildren, Lucia Lugo-Garcia and Santiago Sican-Garcia
Funeral Service – 10:00 am – Tuesday, July 23 2019, Crowder Funeral Home, Webster, Texas.