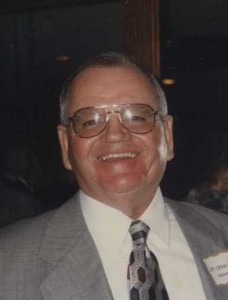 James Malcolm Crowley, 89, passed away on Sunday, May 24, 2015 in League City, Texas, after a courageous battle with cancer. He was born on September 19, 1925 in Bowling Green, Ohio to Thomas Crowley and Esther Murlin Crowley. Jim was preceded in death by his beloved wife of 46 years, Mary Margaret Feeney Crowley; his brother Thomas H. Crowley and sister Margaret Larsen; and sons Thomas Edward Crowley and Patrick Joseph Crowley. He is survived by his brother, J. Patrick Crowley and wife Sheilah, sons James Malcolm Crowley, Jr. and wife Jerrian Marie, John Michael Crowley, Robert Stephen Crowley and wife Jennifer; daughter, Anne Cecilia Crowley Longoria and husband Otto Longoria; grandchildren, Meghan Crowley O'Neal and husband Daniel, James Malcolm Crowley III and wife Ashley Nicole, Erin Elizabeth Crowley, Lauren Michelle Crowley, Sophia Longoria and partner Jussi Tinnemeyer, Esteban Longoria and wife Abbye, and Christopher Longoria; great grandchildren, Kellan James O'Neal, Maddox James Crowley, Estella and Francisco Longoria, numerous extended family members including Curtis Mayfield, and many lifelong friends.
When his nation called he answered by joining the US Navy in 1943 at age 17 and served in the Atlantic, Mediterranean and Pacific theatres aboard the Destroyer Escort USS Traw, and was part of one of the largest naval armadas ever assembled, in Manila Bay prior to the assault on Okinawa. He always claimed that if Emperor Hirohito could have seen the forces arrayed against him that day, he would have surrendered on the spot. After being honorably discharged in 1946, he returned to Ohio and earned a Bachelor of Science degree in Mechanical Engineering from The Ohio State University on the GI Bill. In 1967, Jim moved his family to Dickinson, Texas, where he worked as a mechanical engineer for various NASA contractors and Pan Am Services. He had a passion for sports, especially baseball, served as a Little League coach for many years and passed on his love of the game to his children and grandchildren. He volunteered for many causes, among them Keep Dickinson Beautiful, Mares Memorial Library, Shrine of the True Cross Church, volunteer teacher for the HOSTS Program, and substance abuse counselor for The Men's Center. But most of all he loved sharing time with his children, grandchildren and great-grandchildren and all of his wonderful friends. He will be greatly missed by all who knew him and will always be remembered for being a perfect gentleman, for his calm guidance and wise counsel, his kindness, superior intelligence, unmatched loyalty and generosity, belief in fair play, his subtle wit and his deep sense of humor.
The family wishes to thank the wonderful doctors, nurses, and staff of Harbor Hospice and Harbourview Care Center whose professionalism, kindness, and attention to detail made these last few difficult weeks much more bearable. That profession calls for a special kind of people, and those organizations have them. We also wish to extend special thanks to long-time friend Carmen Kranz Green for her experience, guidance and love, and to all of our dear friends who supported us and helped us through these trying times. Such love, care and generosity can never be fully repaid.
Visitation will be held from 5 pm to 8 pm Thursday, May 28, 2015 at Crowder Funeral Home in Dickinson, Texas. A funeral service will be held at 10:30 am on Friday, May 29, 2015 at Shrine of the True Cross Catholic Church, in Dickinson, Texas. In lieu of flowers, those wishing to make a memorial donation in Jim's memory may do so to any of the organizations named above or to the Paralyzed Veterans of America, Habitat for Humanity, American Heart Association, Wounded Warrior Project, Alzheimer's Disease Research, or the American Legion, organizations to which Jim contributed for many, many years.