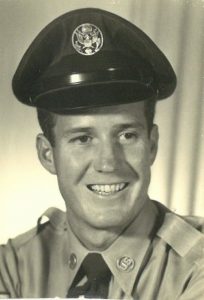 James M. (Jim) Carroll
Jim Carroll, 86, of La Marque, passed away peacefully at his home on September 16, 2017 surrounded by his family.
Son of George and Bessie Carroll, Jim was born February 22, 1931 in Waxahachie, Texas.
After graduating from high school in Waxahachie, Jim moved to California in 1950 where he joined the Air Force, attending the Spartan School of Aeronautics and served as Maintenance Squadron Flight Line Chief for the 15th Tactical Reconnaissance Squadron at Kimpo Air Force Base, Korea.
After the Korean War, Jim moved to Galveston and began his career as a Machinist at Union Carbide in Texas City in 1954. He married his wife of 60 years, Bettie (Markle) Carroll, in 1957 and they settled in La Marque in 1958.
Jim retired from Union Carbide in 1991 after 37 years of service.
He is preceded in death by his parents, George and Bessie; sister Lucille (Riley); and brothers Ronald, Rodney, Dudley Lee, Thomas, Kenneth and John.
He is survived by his wife, Bettie; son Michael, and wife Debbie Carroll of Austin, Texas; son Patrick, and wife Laurie Carroll of Dallas, Texas; and grandchildren Carson Carroll, West Texas A&M University, Canyon Texas; Cooper Carroll, Stephen F. Austin University, Nacogdoches, Texas; Jackson Carroll, University of Southern California, Los Angeles, California; and numerous cousins, nieces and nephews across the United States.
The family would like to thank the admitting staff and outpatient nursing staff at Mainland Hospital in Texas City, Dr. Dhatri Kodali, Dr. Lena Bruce, the infusion nurses at Deke Slayton Cancer Center in Webster, and the staff of A Med Community Hospice.
Visitation will be held at James Crowder Funeral Home, located at FM 517 and FM 646 in Dickinson, Texas, on Saturday, September 23, 2017 from 4:00 pm to 7:00 pm.
Burial will be held at City Cemetery in San Augustine, Texas, at noon on Saturday, September 30, 2017. A reception will follow the service.
In lieu of flowers the family requests contributions be made to the cancer charity of their choice or the Gift of Blood.