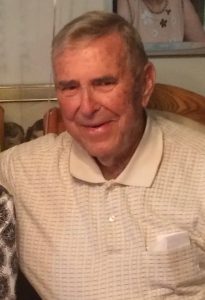 James Lee "Jim" Ramsey  was born on May 27, 1927, in Charleston, WV.  He left this world to be with The Lord on January 14, 2022 at the age of 94.
He graduated from South Charleston High School.  He and his twin brother, Joe were drafted into the military; Jim into the Navy and Joe into the Army.  Their Dad wrote a letter to President Truman, requesting that, since they were twins, would it be possible to station them together?  The request was granted and Joe was transferred from the U.S. Army, to the U.S. Navy.  They were then stationed together in Pearl Harbor, Hawaii, post war.
After his Honorable Discharge from the Navy, Jim attended Morris Harvey College, studying Electrical Theory.  Jim became a Master Electrician, first retiring from Union Carbide in South Charleston, WV, then retiring from the Bendix Corporation at Kennedy Space Center, in Florida.  From there, he returned to Union Carbide, at their Nuclear Power plant in Oakridge, TN.  He retired again at the age of 57.
He and his wife, Lois, were married in 1967.  Once Jim finally retired for good, they decided to move to Shallotte, NC, where they lived for over 30 years.  Many, many friendships developed there, through their Church and other organizations they were involved with.  Shallotte became his "second" home town.  He would talk about returning to Charleston, WV, but could never leave Shallotte, NC because they loved the people there too.
Wherever Jim and Lois were, his guitar wasn't very far away.  Music was a huge part of his life.  He was a member of The Blue Ridge Gospel Boys, a very popular gospel quartet in the Kanawha Valley.  They were frequent guests on radio station WTIP, local churches, and also had a weekly program on WOAY TV.
Jim leaves behind, Lois, his wife of 55 years (Feb 4), his son Bob Ramsey and daughter Kathy Ramsey.  Also, missing him will be grandsons Rick (Morgan) Ramsey and Trey Ramsey, his granddaughter Kim, 6 great-grandchildren, and 1 great-great granddaughter.  There are also a number of nieces and nephews that he remained close with until his passing.
He is preceded in death by his Father, Dewey Ramsey, his Mother, Reba Casebolt Ramsey, his daughter, Debra Jean Ramsey Salon, his twin brother Joseph, and other brothers Thomas and Eugene, his sisters, Elizabeth and Anna Marie.
Services will be held at the Open Door Church, 2630 Kanawha Blvd E, Charleston, WV on Friday, January 21, 2022.  Visitation will be a 10 a.m. and the Service will be at 11 a.m.