James "Jimmy" Daniel Morgan, Jr.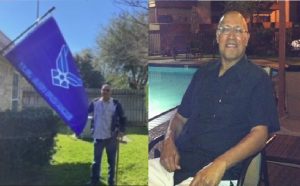 James "Jimmy" Daniel Morgan, Jr. was born to his loving parents James Daniel Morgan, Sr. and Margaret Emily Morgan (nee Biles) on February 28, 1948, in Cleveland, Ohio.  Jimmy was a bright young man that loved his hometown yet had a passion for his country.  After graduating from John Hay High School with honors, he immediately jointed the United States Air Force in 1966 starting a brilliant military career.
His military years saw him serving in both stateside and international assignments eventually retiring as a Master Sergeant after 22 years of dedicated service. Jim loved the Air Force and his dedication resulted in numerous commendations and medals. He maintained memberships in a number of military organizations. He loved to tell stories about his assignments in Viet Nam, Naples, Thailand, and England.
After his retirement from the Air Force, he began a second career with the space program working for a number of NASA contractors on Space Shuttle and International Space Station programs receiving multiple awards from NASA for his excellent work.  Jim was appreciated for his technical skill as well as his friendly and helpful attitude.  He was beloved by his coworkers and friends.  He could usually be counted on to be first to arrive at Happy Hour and get the fun started.
Jim leaves behind to mourn his passing his: sister, Reverend Sharon Alberts (nee Morgan); cousin, Warren Morgan; niece, Margaret Bradley (nee Morgan); nephew, Sean Morgan-Bell; great-nephew, Ernest Hicks III; great-niece, Brittney Hicks; and a host of other family and very dear friends.  He is preceded in death by his parents and sister Judith Johnson (nee Morgan).
Jim requested no public service. He will be interred at a private ceremony at Houston National Cemetery with military honors.