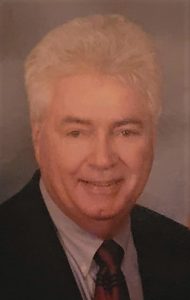 James Herbert Yates "Jim" passed peacefully in his sleep Sunday July 9, 2023 in Fredericksburg, Texas.
Jim was born January 12, 1938 in Charleston, West Virginia. At ten years of age, he moved with his family to Dickinson, Texas, where he graduated from Dickinson High School and met and fell in love with Carol Fredericksen.
After Jim and Carol were married in 1957, they moved to El Paso where he served in the US Army and attended Texas Western College. His military career, in which he served twice due to the Berlin Crisis, also took them to Leesville, Louisiana. Jim always knew, however, that Dickinson was home, so they ultimately returned there to raise their four boys.
After Jim and Carol moved back to Dickinson, he began his lifelong sales career in instrumentation for the process control industry working for several national and international firms before starting his own successful company, Yates & Associates.
As a classic car enthusiast Jim could often be seen cruising around town in one of his many classic cars and trucks he refurbished and owned over the years. Carol and Jim looked forward to the Concours d' Elegance auto event held at Pebble Beach, California which they attended for many years. They also frequented the Keels & Wheels Concours d' Elegance in Seabrook where they showed many of their classic cars. Jim also acted as a judge for several of those years. Additionally, Jim loved dogs and enjoyed countless furry and loving friends over his life.
Jim was an avid gun collector focusing on historically significant antique pieces that he treasured and would happily spend hours sharing the history of each piece with you. Particularly, he was an authority on the highly collectible Colt single action Army pistol. While he was an avid reader with an ever-expanding library including a broad and diverse range of subjects, he primarily focused on America's involvement in warfare and even traced his ancestry to the Army of Northern Virginia in the Civil War and the 7th Cavalry at Little Big Horn.
Jim is preceded in death by his father, Herbert Agnew Yates and his mother Rosemary, as well as brothers David and Wayne Yates.
He is survived by his wife Carol, sons Jeff (Alice), Brian (Joanna), Murphy and Stephen, his beloved grandchildren Veronica Yates Bullock (Trevor), Sawyer Yates (Celene), Katie and Cullen Yates as well as great-grandchildren Hayden Yates and Jason Bullock and sister Rebecca James. He also leaves behind his dear springer spaniel Shelly and his favorite cat JP. Additionally, we extend a special and heartfelt thanks to Dawn Pardue for her kind care of Jim in his final weeks and hours.
A celebratory memorial service will be held in his honor on Saturday August 12th at 2 PM at Crowder Funeral home in League City, Texas.