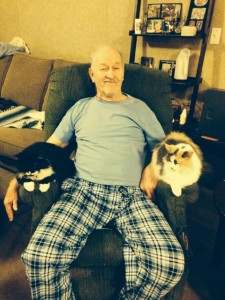 James Derrell Taylor, 83, resident of Bacliff, Texas passed from this life Saturday, August 13,2016 with his wife by his side. He was born on October 24 in 1932 to parents, A.R. Taylor and Ura Taylor. James spent his working career as a Union Boilermaker until his retirement.
James is preceded in death by his parents, 4 sisters, and 2 brothers. Left to cherish a lifetime of memories are his loving wife, Loretta, their children, grandchildren and 2 great grand-daughters.
Pappy, as we lovingly named him, loved watching birds, eating desserts (of any kind), and enjoyed long evening walks where he was known by all the neighbors for blocks around the community. He was 110% American, a proud United States Air Force veteran, a good ol' boy, a blue-eyed cowboy with a heart for God, his wife and family, and animals. Oh how he loved every second spent with "his babies", his great grand-daughters.
Pappy is loved and already missed, but we know we are blessed by the legacy of strength, forgiveness, love and faith he has left for our family to carry on.