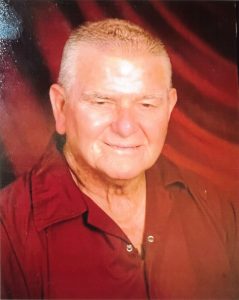 Jack Wayne Blankenship (89) of Santa Fe, TX passed away on Saturday, July 15, 2023.  Jack was born in Pauls Valley, OK to Howard Lee Blankenship and Mary Ellen Tomlinson Blankenship.
Jack was in the Ball High graduating class of 1952.  At 17, he enlisted in the U.S. Army, serving in Korea.  After his service, Jack returned and attended college at Texas Tech for a year.  Soon after, Jack met Iris Lorraine Pitre and knew after dating for just three short months, that she was the one.  Jack and Iris married in 1956.  Jack worked at Pan American (Amoco) until he was laid off at which time he worked longshore with his father and uncles throwing cotton.  Jack was later hired at Monsanto Chemicals in 1959 as an operator, retiring from Sterling Chemical as a Carpenter Leadman after 39½ years of service.
Jack was a great mentor to many, sharing his expertise in carpentry, car and motorcycle repair, and volunteering in his children's and grandchildren's activities.  Jack loved to tell stories about growing up in Oklahoma and Galveston, stories about the Korean War conflict, Hot Rod cars and motorcycles.
Jack will be welcomed in heaven by his loving and devoted wife of 63 years, Iris Lorraine Blankenship, his son Bobby Jack Blankenship, and his sister Marilyn Sue Sexton.
Jack is survived by son Bruce Wayne Blankenship (Sandy), daughter Bea Ann Blankenship West (Bill), his grandchildren Dwayne Blankenship, Darbi Blankenship Harris (Matt), Bobby Blankenship (Courtney), his six great grandchildren, his sisters Fuchsia Blankenship Nelson (Howard) and Martha Blankenship Spencer, numerous cousins, nephews, and nieces.
A memorial visitation will be Thursday, July 20, 2023 at 2:00 pm with the memorial service at 3:00pm at St. Michael's Episcopal Church in La Marque, 1601 Lake Road, La Marque, TX  77568 with Father Bob Moore officiating.  A reception will follow the service.
Honorary Pallbearers will be David Norris, Gil O'Balle, Albert Urps, Joe Villareal, Joey Villareal, Bill Vandre, Daniel Fanelli, David Carnell, Tom Park and Harry Guss, Sr.
The family would like to especially thank Chris Adkins of IPR and the Clear Lake HCA ICU staff.  Memorials in Jack's honor may be made to St. Michael's Episcopal Church in La Marque, 1601 Lake Road, La Marque, TX  77568