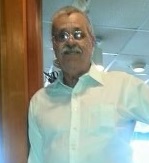 JACK ROY SKELTON JR, passed away on, November 8, 2022, at Bayshore Hospital in Pasadena, TX, at the age of 75. Jack was born on, October 5, 1947, in, Saint Albans, West Virginia, to, Adeline and Jack Skelton.
Jack joined the Air Force out of High School. He served from, December 1967, until released from service in, September 1973, at the rank of Staff Sergeant. Jack used his G.I. Bill benefits to attend college and Dental School. He established, Bayshore Dental Care, in Kemah, TX. and operated the business for 40 years, retiring in, 2021. He was a member of the VFW, and American Legion. Jacks passion was fishing, and loved to sit on his porch, and drink with friends, and neighbors. As a Friend, he will be missed.
Jack was preceded in death by his Mother, Adeline, and Father, Jack, Brother-in-Law Randy Griffon of, Ft Smith, AR.
Jack is survived by his wife of 33 years, Janet Griffon Skelton, he's Niece, Cassie Stewart, of Kilgore TX, and a Sister, Brenda Skelton Moore, of Pearland, TX.
There will be a Visitation for Jack at the, Crowder Funeral Home, 1645 East Main St, League City. (281) 332-2727, on, Wednesday, November 16, between the hours of, 6:30 – 8:30 pm.
Jack will be buried at the, Houston National Cemetery, in Houston TX, on, Thursday, November 17, 2022, at 11:00 AM. The cemetery is located at, 10410 Veterans Memorial Dr, Houston, TX 77038. Jack will depart for the cemetery at 9:30 am.