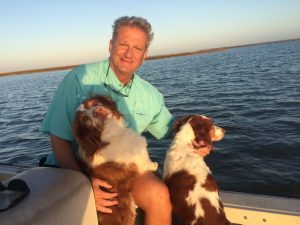 Jack Larry Rowe passed away on Monday, April 18, 2022, in Houston, Texas, at the age of 71.
He was born on March 19, 1951, in Texas City, Texas, to Jack and Juanita Rowe.
Jack Larry was a lifelong resident of League City, Texas, and longtime funeral director at Jack Rowe Funeral Home. He served as president of the Clear Lake Chamber of Commerce and Rotary Club and also was involved in the community through the Village Fair, Shrimporee and as a member of the Coastal Conservation Association. Jack Larry loved spending time on the bay fishing for speckled trout and redfish. A lifelong athlete, he coached both his children's League City Little League teams, ran marathons and was an avid golfer. His greatest joy was spending time with his friends and family, to whom he was a unique light. He was a  dedicated  fan of all Houston sports teams, and his daily postings of sunsets on social media will be missed by many. 
Preceded in death by wife, Cathy Rowe, and beloved dogs Maxwell, Mansfield and Jackson.
Survived by son Jack Derek Rowe and wife Catherine of Austin, Texas; daughter Devon Hope Rowe of LaPorte, Texas; grandson Jack Carter Rowe of Portland, Oregon; sister Joanne Salvato and husband Jimmy of Dickinson, Texas; nieces Paula Ann Schneider of League City, Texas, and Christian Riassetto of Friendswood, Texas; and nephew Jonathan Rowe Salvato of Nassau Bay, Texas.
A private burial will be held at Fairview Cemetery in League City, Texas.
In lieu of flowers, donations should be made to the Bay Area SPCA. Per Jack Larry's request, "Please take care of the pups."
A Celebration of Life will be held on Sunday May 15, 5 to 7 pm, at the Palapa at Topwater Grill, 815 Avenue O in San Leon Texas.