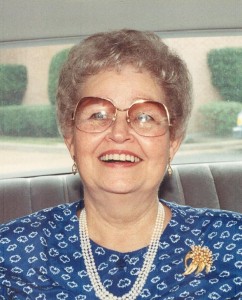 Iris received her travel orders to join her husband Col. O.C. Shouse Jr. for their final assignment on February 7, 2016. Iris was born on December 29, 1923 to Odell Eoff and Modell Bicknell Eoff in Noodle, Texas where she grew up on a farm with no running water or electricity. She picked cotton and literally walked the often mentioned two miles to school and back every day, not in snow, but in the Dust Bowl. She played basketball and was class president and valedictorian of her class of nine from Noodle High School. Growing up in hard times toughened her for her future as a patient and strong Air Force wife.
She married O.C. On October 31, 1942 and served and sacrificed for her country by following him on his many assignments for almost thirty years. She was his home based co-pilot, navigator, wingman, crew chief and loadmaster. They celebrated their 70th wedding anniversary the month prior to his death in 2012.
Many times during his career she was basically a single mother for long periods of time, away from extended family, and not knowing how to drive. She was the only constant thing, and at times, the only friend her children had when they were growing up because of the frequent moves.
After retiring from the Air Force, they moved to Seabrook in 1972. She leaves behind her son Richard and wife Cheryl of Seabrook and their four sons, her daughter Ann Rutledge and husband Errol of Abilene and their two sons, eight great grandchildren, and seven great-great grandchildren. She was preceded in death by her younger siblings, Naylor Eoff and Dodie Henniger.
Special love to all the A-Med employees who helped with her care, especially Diana, Heidi and Velia.
Visitation 6-7pm Funeral Service 7pm – Friday, February 12, 2016 Crowder Funeral Home, Webster
Iris will be laid to rest with her husband in Houston National Cemetery.