Iris Lorraine Pitre Blankenship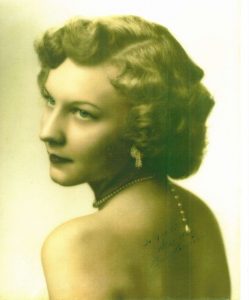 Iris Lorraine Pitre Blankenship, 83, of Santa Fe passed away on Saturday, December 21, 2019.  She was born a BOI on December 19, 1936 to Jean and Beatrice Pitre.
Iris attended Ball High School, graduating in 1955.  She was a very talented twirler for the Ball High Tornettes.  After high school, Iris met Jack Blankenship, dated for three months, married on June 29, 1956.  Iris worked for Texas City National Bank, and then worked for the Falstaff Brewery in Galveston.  Continuing her education, she received her LVN associates degree in 1979 from College of the Mainland Nursing School and started her career at Galveston County Memorial, now Mainland Center Hospital.  Iris retired in 2009 after 30 years of service, receiving many accolades and recognition awards.  Iris was a friend to all who met her, and will be sadly missed by family and friends.
Iris was preceded in death by her parents, Beatrice A. and Jean C. Pitre, her brother George Pitre, sister- in-law, Marilyn Sue Sexton and her son, Bobby Jack Blankenship.
She is survived by her loving and devoted husband of 63 years, Jack W. Blankenship, son Bruce Blankenship (Sandy), daughter Bea Ann Blankenship West (Bill); her grandchildren: Dwayne Blankenship (Kandis), Darbi Blankenship Harris (Matt), Bobby Blankenship, Melissa West Smith (Curtis), Amber West, her nine great-grandchildren, sisters-in-law: Fuchsia Nelson (Howard), and Martha Spencer, and Honorary for Life Sister Joan Norris, numerous cousins, nephews, and nieces.
A Memorial Visitation will be from 10:00am – 11:00am on Saturday, December 28, 2019 with the Memorial Service to follow at 11:00am at St. Michael's Episcopal Church in La Marque with Father Bob Moore officiating.
A Celebration of Life Reception will follow immediately after the service.
Honorary Pallbearers are David Norris, Gil O'Balle, Marcus Junemann, Chris Elliott, Joel Villareal, Bill Vandre, and Harry Guss.
The family would like to especially thank Emma Perry Stanley for her loving care and support.
Memorials in her honor may be made to St. Michael's Episcopal Church in La Marque   1601 Lake Road La Marque, Texas   77568.