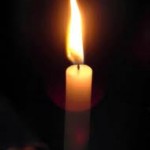 Imogene Wilhelm Mares died on March 16, 2015 at the age of 92. She was born on September 3, 1922 in Greensville, Texas to Johyne T. Wilhelm and Clara Mae Hays Wilhelm.
Most of her childhood was spent in Fort Worth, Texas where she graduated from Polytechnic High School and then attended Texas Wesleyan College.  She received her B.A. degree from Hardin Simmons College in 1945 and her M.A. degree from Texas Tech University in 1965.  Imogene taught elementary grades for school districts in Texas, Kansas and Colorado. She also taught Sunday School and Bible Study groups, but her most fulfilling job was teaching English and reading to immigrant children and adults.
She was preceded in death by her parents John and Clara Wilhelm; her husband, Alex Mares; the father of her children, James G. Robbins. She is survived by her children, Ava Good and husband, Paul; James D. and Paul C. Robbins; twelve grandchildren, 16 great-grandchildren and 1 great –great granddaughter.
A memorial service will be on Friday March 20 at Clear Lake Presbyterian Church at 3:00 P.M. in the sanctuary.