Ida Geraldine (Gerry) West Elgin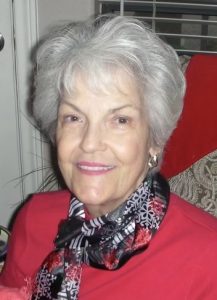 Ida Geraldine (Gerry) West Elgin (87), passed away on Friday, September 2, 2022 in Houston.  She was born in Tupelo, MS on December 12, 1934 to James and Nannie Collier.
Gerry attended nursing school in New Orleans, LA and moved to Texas City after graduation and worked at Beeler-Manske clinic first as Dr. Beeler's nurse, then as Dr. Cochrane's..patients always loved Nurse Gerry! She met and married Gary West in 1957 and had her only child, a daughter, Terry in 1959. Gary passed away in 1990. She married again in 1993; John Elgin and they were married and had many wonderful trips until his death in 2008. Gerry was an amazing care giver as each of her husbands struggled at the end of their lives..so loving and caring.
She is preceded in death by parents James V and Nannie Sue Collier, husbands Gary West and John Elgin, sisters Dorothy Allen, Maxine Denney and Betty Schultz, step daughter Cheryl Scott who left this world the very same night and her husband John Scott.  Left to cherish the many memories are her sister June Collier, her daughter Terry Gray and husband Don, granddaughter Julie Schoppe and husband Sam, grandson Jared Gray and girlfriend Rebecca Zuniga, great granddaughter Makinzi Gray, and step son Mike Elgin and wife Nancy.
A visitation will be held on Thursday, September 8, 2022 from 11:00am-12noon at James Crowder Funeral Home in La Marque with the funeral service at 12noon.  Interment will follow at Galveston Memorial Park in Hitchcock, with Pastor Stephanie Hughes officiating.