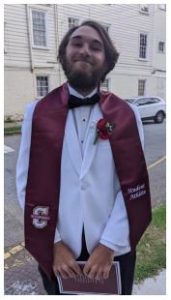 It is with heavy hearts we announce the sudden and unexpected passing of Hunter Michael Skinner, at the age of 25. Hunter passed in his apartment in Coral Gables, Florida, on September 10, 2023, from diabetic ketoacidosis.
Hunter was born on June 7, 1998, in Atlanta, Georgia to Troy Barnett Skinner, Jr. and Marjorie deCou Hunter. Most of Hunter's early years were spent in Rochester, New York where he was a proud alumnus of the Harley School and McQuaid Jesuit High School. He first discovered his love for sailing while at summer camp right before entering McQuaid. By age 12 Hunter had started to pursue every opportunity to learn everything he could about sailing, and soon found himself sailing for the Mercy McQuaid team through the Rochester Yacht Club.
In 2014, Hunter and his family moved to El Lago, Texas, in part to support Hunter's sailing passion. Hunter, then a junior in high school, enthusiastically began sailing for Lakewood Yacht Club and the very young Clear Falls High School Sailing Team. In Texas, Hunter was able to sail year-round with a group of like-minded passionate sailors that together worked hard to make the Clear Falls Sailing Team a force to contend with nationally. The team's hard work began to show when in 2015 the Clear Falls Sailing Team won the Mendelblatt Trophy for the ISSA High School Keelboat Invitational. Finishing strong in the spring of Hunter's Senior year – 2016, the Clear Falls Sailing Team continued to excel and won the prestigious ISSA High School Doublehanded National Championship (the Mallory Trophy), officially putting Texas on the high school sailing map. In addition to high school sailing Hunter embraced every opportunity to sail at the highest levels of the youth sailing circuits which took him far and wide all over the United States, Canada, Greece, Italy, and Germany.
After high school Hunter continued his education, first at Jacksonville University in Florida and then at The College of Charleston in South Carolina where he earned a B.A. in physics. He sailed for both universities and was a proud member of both sailing teams. Not one to take his foot off the pedal, or miss a single sailing practice, Hunter was overjoyed when his College of Charleston Sailing Team came from behind to win the Co-ed Collegiate National Championship in 2019.
Following graduation Hunter began his career at Simmons Boatworks out of Sandwich, Massachusetts, and later Miami, Florida. Hunter was one of those lucky individuals able to connect his passion with both his purpose and his profession. On any given day, and no matter the task at hand, or the long list of "To-Dos," Hunter's famous reply when friends and family checked in on him was "Living the Dream," and he said it with complete sincerity and a huge grin.
Hunter's path in life was strongly influenced by his faith in God. He carried forward and practiced the credo he learned at McQuaid Jesuit – "Men for Others." He was loved far and wide within a world filled with family, friends from church and school, teammates, sailing coaches, mentors, mentees, up and coming sailors, and families across the broader sailing community. Hunter's deep passion for sailing is reflected in the many successes he achieved personally as well as the lives he touched while helping others embrace the sport that he loved so much. For that, Hunter will be sorely missed by many.
Hunter is survived by his parents Troy and Marjorie, his sister Jessica Skinner, his grandmother Shirley Trotti Skinner, and grandparents Paul and Sally Jones Hunter, uncles and aunts Gary and Kalynne Skinner Hudson, Rich and Carol Hunter Bonham, Doug Hunter and David Hunter as well as many cousins. He is also survived by his sailing brother/partner Dylan Ascencios and sailing parents Alex and Lisa Ascencios.
Hunter's Celebration of Life Service will be held Saturday, Sept. 23, 2023, at 10:30 a.m. at Clear Lake Presbyterian Church, 1511 El Dorado Blvd., Clear Lake, Texas. Attendees are encouraged to wear blue, Hunter's favorite color. A reception will follow at the church. The service will be live streamed at the following link: http://www.youtube.com/CLPCtube Donations in Hunter's honor can be sent to the JDRF Diabetes Foundation (JDRF.org), an organization that he supported and raised money for during his lifetime. Flowers can be sent to the church for the service.