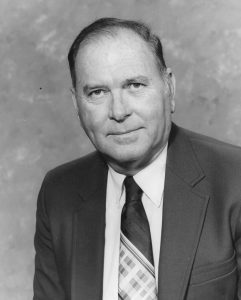 Howard M. Ohlund, one of the best and one of the last members of the Greatest Generation, passed away late in the afternoon of January 3rd at his home. He was born on October 2, 1924 in Hoboken, New Jersey to Marie Mickelsen and John A. Ohlund. The entire family moved to Texas in 1927. He was a longtime resident of La Marque. Howard had the privilege of playing football for the La Marque High School Tigers in its inaugural year. Tiger football was a Friday night activity that spanned many years of pleasure and pride as a season ticket holder. Cougar football continued the Friday night tradition. Baseball was another passion from Little League baseball to the Houston Astros. He remembered and loved each boy he ever coached, many of whom had nicknames that followed them.
Howard joined the US Navy on October 2, 1941 and served on the USS Frazier (607) in the South Pacific where he made many lifelong friends that he looked forward to seeing at Frazier reunions all over the United States for many years. Howard retired from AMOCO in January of 1984 after 34 years of service. He was an active member of Paul's Union Church in La Marque for 80 years serving as s Deacon and Trustee. "Well done, good and faithful servant."
He will be welcome in Heaven by his mother and father, Marie and John Ohlund, his brothers Carl Ohlund, Ralph Ohlund and Jimmy Ohlund; sisters Elsie Cappadona, Olga Martingano and Edith (Lollie) Filidei; and two nephews, and a niece.
He married Mileane Irene Robinson on January 12, 1946 a sacred union that last for nearly 71 years. They were (blessed) with two daughters Linda McLellan (Bill) of Sugarland and Donna Cucco (Wayne) of La Marque.
He was the best PaPa to Patrick McLellan, Daniel Cucco(Carrie), Gregory McLellan(Julie) and Katy Cucco (fiancée Johnny Alvarez) and three great granddaughters Kendall and Olivia McLellan and Marlie Cucco, all who will miss him with every fiber of their beings!
This fun loving, wonderful man will be so missed by his family including all of Robinson in-laws and outlaws and many nieces and nephews and many others who are proud to call him friend.
The family wishes to thank Dr. Swayam Prakash and staff of Providence Hospice.
A Visitation will be on Thursday, January 5, 2017 from 5:00pm – 7:00pm at the James Crowder Funeral Home in La Marque. A Funeral Service will be at 11:00am on Friday, January 6, 2017 at Paul's Union Church with Rev. Doug McBrayer officiating. Burial will follow at Galveston Memorial Park in Hitchcock, Texas.
Pallbearers will be Howard's sons-in-law and grandchildren.
The family suggests memorials be made to Paul's Union Church, Providence Hospice or to any memorial of your choice.