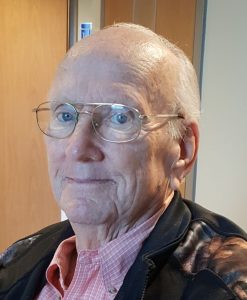 Homer Eugene Oliver passed away peacefully on November 5, 2019. He was born in San Saba, TX to Winfred Allen Oliver and Mimi Hill Reevers on January 8, 1932. Homer was a great husband, father, grandfather, great-grandfather, and friend. He was married to the love of his life, Dorothy Simek Oliver for 67 years. He is survived by his wife, Dorothy, and their daughters Vickie Frederick and husband Pete, Sherry Kauffman and husband Danny, and son Eugene Oliver. He is also survived by his grandchildren Jennifer Frederick, Justin Frederick, Jill Malagarie and husband Ryan, Erika Hays, Jessica Olson and husband Eric and great-grandchildren Colton, Kasey, Justin, Kayleigh, Sadie, Dorian, Jayden, Trinity, Alex, Sydney, Parker, Brett, Jordan, and Valak.  He was preceded in death by son-in-law Randy Hays.
Homer began his career as a young man in ladies' ready-to-wear fashion. With his wife, Homer opened three successful dress shops that they owned for over 20 years before pursuing another great business adventure in photography. Homer and Dorothy opened Photo Corporation of American which employed over 200 employees. At one point or another, many family members would be employed by this company, making it family adventure that lasted over 20 years. Homer was never one to be idle, so he and his wife embarked on another successful business adventure by opening 10 daycares in the greater Houston area under the name of Gingham Goose daycare. This business also employed many family members throughout the years.
Homer's favorite job over the past 30 years was photographing Santa Clause and Easter Bunny pictures at elementary schools. Playing Santa Clause brought great enjoyment to Homer; he was always a natural with children and loved making them smile. He had the perfect twinkling eyes to bring Santa to life every year for many children.
When Homer and Dorothy decided to retire, they chose Crystal Beach, TX.  They loved their new dream home and made many friends at the beach. You could always find him on his golf cart on the beach or visiting with neighbors.
Most of Homer's close family and friends new him by the nickname of "Duby". He was the best storyteller in the world.  Duby never met a stranger and had a huge, loving heart. He always left a lasting impression with everyone that he met. He will be greatly missed by all who knew him.
A Memorial Service will be held at 11:00am on Saturday, November 16, 2019 at the Community Church  1020 Diamond Road  Crystal Beach, TX.