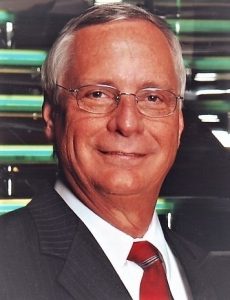 Hiram Gerald Baxter, 73, went to be with the Lord on March 4, 2017. By his side was his loving wife Mary and best friend John Poffinbarger.  Hiram was preceded in death by his loving mother and father Gladys and Harry Baxter, and his brother Harry.  Hiram is survived by his wife Mary of 33 years, a stepson Ed Krusey and his wife Hana, and three grandchildren Braden, Gavin, and Alyse; his father-in-law Carl Smith, brother-in-law Carl A. Smith and his wife Joan; his brother's wife Bette Baxter and two nephews Tim and Chris.  He was especially close to his Aunt Margie Wright and family.  Hiram was blessed with many loving relatives.
Hiram was born in New Orleans on February 8, 1944. Shortly after, his parents moved to Macon Georgia.  He attended Pearl Stephens Elementary School and Lanier Junior High.  Hiram loved living in Macon and had many friends.  In 1959, Hiram's family moved to Bay St. Louis Mississippi where his parents were from.  Hiram finished Bay High School in 1963 then attended Mississippi State completing a degree in Electrical Engineering.  He moved to Houston Texas to work in the Space Program and continued to work at Johnson Space Center for 41 years.  He worked in Mission Operations Directorate training flight controllers and astronauts.  He started working on Apollo 9 and continued training to the end of the Shuttle Program.  Training astronauts in the Shuttle Mission Simulator was his most enjoyable job of his career.  He especially loved listening to and sharing space program stories. He was blessed to have many wonderful close friends.
For five years Hiram fought a brave battle against cancer. Hiram received his ultimate healing from his Heavenly Father when he stood before the thrown of God and heard his Heavenly Farther say, "Well done, my good and faithful servant."
Surrounded by many cherished family members and friends, Hiram was interred next to his mother and father on March 9th at the Lakeshore Cemetery in Lakeshore Ms.  A celebration of life will be held Saturday March 18th at 2:00PM at Crowder Funeral Home in Webster Texas.
In lieu of flowers, it was Hiram's desire that contributions be made to the University of Texas, MD Anderson Cancer Center. Contributions can be made at the following website https://www.mdanderson.org/