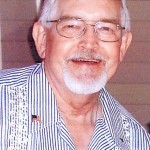 Henry Thomas Crenshaw Sr., 76, passed away with his family by his side April 14, 2014, at St. Luke's Hospital.
Henry and his wife, Donna, moved to Friendswood in 1970. Henry had a great love for football, having played in high school, and in 1978 became a football official. In 1965 Henry was ordained deacon at North Huntsville Baptist in Alabama. At Heritage Park Baptist, Webster, he was Chairman of the Finance Committee, served on the Care Committee and taught Adult 3 Bible Study until his health began to fail.
Henry has a Master's Degree in Physics and was employed by Lockheed Martin working on the space program beginning with Apollo. He also held numerous offices in the National Management Association.
Henry is preceded in death by his parents and brother, Francis Crenshaw. He leaves behind his wife Donna, of 56 years, children: Donna Marie Hawkins and husband, Greg; Cynthia Aileen Gunter and husband, Carey; Henry Thomas Crenshaw Jr., and wife, Deborah; Bryan Talmadge Crenshaw and wife, Carolina; 11 grandchildren and 8 great grandchildren; brother, Kenneth Crenshaw.
Family will be receiving friends on Thursday, April 17, 2014, from 3-6 pm at Crowder Funeral Home in Pearland. Funeral service will be held Friday, April 18, 2014, at 11 a.m. at Heritage Park Baptist Church, 2732 Fm. 528, Webster, Tx., 77598 and Plymouth Colony Dr., Pastor Trent Henderson officiating; Frank Aragon, Worship Leader.
Pallbearers: Brandon Crenshaw, Anthony Hawkins, Jason Kinney, Emmitt Wells, Jon Cheverere, and Stewart Parker. Internment to follow at Forest Park East Cemetery.