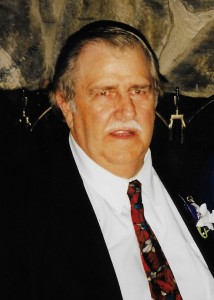 Henry Charles Dewey, Sr. passed away peacefully at his home in Kemah on Thursday September 10, 2015 at the age of 80.
Henry was born on January 23, 1935 to Anna Vogenberger Dewey and John Joseph Dewey, Sr. in Queens, New York. His family later moved to Kemah during the depression era.
Henry served in the United States Army and was stationed in France; and following his discharge from active duty, he served in the Ready Reserve Reinforcements. He served his community in the Kemah Volunteer Fire Department during Hurricane Carla, and was a Charter Member of the Benevolent Protective Order of Elks, Lodge #2322 in Kemah. Henry was a bricklayer by trade, and after 50 years earned Lifetime Membership status in the Bricklayers and Allied Craftworkers Union, and he was elected as the Business Agent serving the local union prior to his retirement. He was well respected in his industry, and was called upon to work in industrial plants all across the United States.
His passions included photography, dancing, coin collecting, and travel. His love of travel took him all over the world with destinations as far away as Thailand, Singapore, Bahama Islands, and Hawaii.
Those left to celebrate his life are his children Henry Charles (Chuck) Dewey, Jr. of Hitchcock, Texas, and Sharon Dewey Schultz of Houston, Texas; Grandchildren Jessica Dewey, Lindsey Dewey, Kristin Dewey, and Randal (Randy) Cade Schultz; and Great-grandchildren Anna Nichols, and Destiny Stanford; and nieces and nephews. In addition to his parents, Henry is preceded in death by his sister Edna Dewey Ramey, and his brother John J. Dewey, Jr.
The family will receive friends at Crowder Funeral Home located at 1645 East Main Street, League City, Texas on Friday September 18, 2015 from 5:00 p.m. to 7:00 p.m., with a Rosary following the visitation at 7:00 p.m. The funeral service is scheduled for Saturday, September 19, 2015 at 10:30 a.m. in the Chapel at Crowder Funeral Home, with a graveside service to follow at Mount Olivet Cemetery located at 7801 Gulf Freeway, Dickinson, Texas.
Those wishing to make a Memorial Gift may do so to the B.P.O.E. Clear Lake (Kemah) Elks Lodge #2322, 623 Hanson Road, Kemah, Texas 77565.