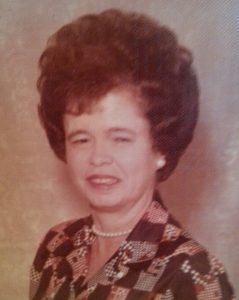 Helen Juanita Garrett, 78, of Texas City passed away on Sunday, November 27, 2016 in Clear Lake, TX.  She was born February 6, 1938 in Texas City, TX to Henry and Naomi Tyler.  Helen was a member of Northside Baptist Church.
She is preceded in death by her parents Henry and Naomi Tyler Sr. of Texas City; brothers Henry Tyler, JR., of Texas City, Jack Tyler of Columbus, GA and Billy Tyler of Texas City; her sisters Nell Aleman of Texas City, Ruth Stewart of Texas City and Margaret Kocourek of Texas City.
Helen is survived by her sister Annie Mae Worley of Texas City, TX and brother James Ray Tyler of Norco, California and numerous nieces and nephew.
A visitation will be from 5:00pm -8:00pm at the James Crowder Funeral Home in La Marque on Thursday, December 1, 2016.  Funeral Service will be at 10:00am on Friday, December 2, 2016 at James Crowder Funeral Home in La Marque. Burial will follow at Galveston Memorial Park Cemetery in Hitchcock, Texas.
Pallbearers will be Robert Brisbin, Don Cole, Bryan Slocum Sr., Mark Worley IV,    Matt Worley, Charles Stewart, David Stewart, and Arthur Stewart III.  Honorary Pallbearers Bryan Slocum Jr. and Christopher Slocum.