Helen Hilda Michitsch Brown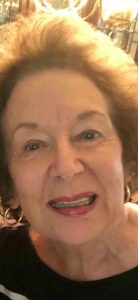 Helen Hilda Michitsch Brown 78, of Taylor Lake Village, Texas passed away peacefully on Wednesday June 21, 2023. She was born in Queens, New York to Frank and Ida Michitsch.
Helen graduated with a Nursing Degree from Kansas City State University. While she was pursuing her degree she fell deeply in love with Richard Lee Brown. Richard worked in City Management where it took them to live in different states. She took some time off from nursing to raise her 3 beautiful children who were her world. They moved to Henderson Kentucky where she volunteered working at the Humane Society and Red Cross. When she moved to Houston she fell in love with doing stained glass where she met many customers who loved her work.
She was always there for her family who mattered to her most. She lost her loving husband after 47 years and not a day passed by where she would have loved to see him again, in life.
She always had a smile on her face and loved to laugh. She was the most beautiful, talented, giving and loving person you could ever meet.
Helen was extremely smart. She always loved to read and watch Jeopardy with her constant companion, a Love bird named Chipper.
Helen is survived by her three children. Her son Michael Brown and his wife Cynthia of Many, LA. Her daughters Shelly Scott, and husband Steve of Friendswood Texas and daughter Shannon Lindsey of Seabrook, Texas. Helen is also survived by her 4 grandchildren, Timothy Brown of Webster, Texas, Jessica Brown of Savannah, Georgia, Riley Scott of Friendswood, Texas Nicholas Lindsey of Seabrook, Texas, and Maggie Brown,her great- granddaughter.
She is preceded in death by her loving parents, her loving husband Richard and her older brother John, all of whom she spoke of with nothing but love.
So many people knew of her as Helen. We know her as Mom. She was the kindest, most gentle soul that always made you feel important, like you mattered. Helen never wavered in her love for us. We miss her terribly and our hearts are deeply broken. Knowing she is has reunited with her family who preceded her brings us comfort. Helen is with the angels now and will forever be close to those whom she loved through eternity, and those who loved her.
On Tuesday, June 27, Helen's family will greet guests from 6:00 pm to 8:00 pm at Crowder Funeral Home, Webster, TX. The Funeral Service will take place on Wednesday, June 28, at 10:00 am at Crowder Funeral Home, Webster, TX. A private burial will follow at a later time at Forest Park East Cemetery, Webster, TX. In lieu of flowers donations can be made in her honor to Smile Train, Shriners Burn Center and St. Jude Hospital.