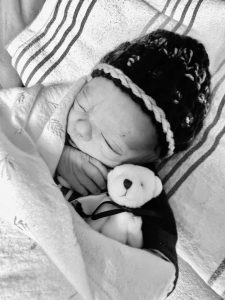 Hector Luis Rodriguez IV was born on, and shortly after, passed away on Tuesday, April 19, 2022 in Galveston, TX.  He was born to Hector Luis Rodriguez III and Maddison JoAnn Temple of Texas City, TX.
Hector is survived by his parents; grandparents: Cheryl and Hector Rodriguez Jr. of Texas City, TX and Monica and Donald Temple of Crawfordville, IA; great-grandparents: Jim and Robin Lewis of Tampa, FL, Hector and Nellie Rodriguez Sr. of Texas City, TX, Barb Freymuth of Iowa City, IA, Sue Owens of Arizona, and Nancy Temple of Willmend, IA.
A service for Hector will be on Saturday, April 23, 2022 at 10:00AM at the Trinity Baptist Church in Texas City.  Interment will follow at Hayes Grace Memorial Park in Hitchcock, TX.
Words From Mother:
My Heart is so full as I think about what has happened the last two days… and really, my entire pregnancy. 
As a lot of you already know, Tuesday April 19th, I gave birth to our son, Hector Luis Rodriguez lV at 2:25 am. He weighed 1.6lbs and lived for 8 mins. Our sweet baby boy, my husband and myself felt nothing but love during this time and I'm so thankful. Thankful I serve a God who gives and takes away. He gave us time to prepare as best we could for what was to come. He allowed us time with our sweet boy before his life came to an end. 
I'm Thankful for grace and mercy when we don't deserve it. I'm Thankful that our savior knows our pain. Thankful He never leaves or forsakes us, even if we can't feel Him, He's near. 
I can't tell you the peace I have knowing our son will never have to suffer down here. He'll never know anything else but our Heavenly Father's love. Even though we'll be sorrow filled for months maybe even years to come, I know that I will see my sweet baby again one day! 
This frase "Rejoice in the Lord, He makes no mistakes" came to my mind as I was writing this. I know my faith is and will be tested but He truly doesn't make mistakes. He knew. He's always know and that gives great comfort! 
A special thank you for friends and family who have been by our side from the beginning. We couldn't have done it without you! Also thank you to all who have been here at the hospital, who have prayed, given or just sent a text. We can't express our gratitude enough. We love y'all 
Words From Father: 
Last night Maddie pushed out our beautiful baby boy. Little Hector Luis Rodriguez IV had a very small body at 1.61Ib and a very short life of 8 minutes. The biggest fear for any parent is to look and hold their child and see nothing but a lifeless body. No cry, no movement, no future birthdays or videos of their first steps. I'm not gonna lie this is the worst thing that has ever happened to me and Maddie, but I will say this! God gave him a big enough body for us to hold him and share him with all our family that came up last night. God gave him 8 minutes of life when God did not have to do that! God gave us some months to prepare the best we were able to. So In all of this yes we are hurting, but I serve a God who is bigger than my hurt, my pain, my struggles, and my trials! God is good all the time, and all the time God is good. God knew that boy was too good for me and this earth and He needed him in heaven as soon as He could get him! and of course the pain is still there but I really serve an AMAZING GOD! And as the words of the song says, 
"When peace like a river, attenders my way, when sorrow like sea billows roll whatever my lot, thou has taught me to say it is well, it is well with my soul!"
– It is well because I know I will see him again one day in heaven. 
– It is well because I serve a God who was merciful to allow me to be with them both. 
– It is well because my boy had a life even though it was a short one
– It is well because my grandparents were able to hold their first great grand baby
– It is well because my parents got to hold their first grandson. 
– It is well because all the other family that was there were able to hold him! 
– it is well because of the GOD that I SERVE! 
And if my God allowed this to happen, there was a reason! Do I know what it is, no I do not, but one day we will. My God is Good all the time, and all the time My God is Good!
Father: Hector Luis Rodriguez III
Mother: Maddison JoAnn Rodriguez
Grandfather: Hector Luis Rodriguez Jr. 
Grandmother: Cheryl Lynn Rodriguez
Grandfather: Donald Eugene Temple
Grandmother: Monica Owens Temple
Great Grand Father: Hector Luis Rodriguez Sr. 
Great Grandmother: Nellie Rodriguez
Great Grandfather: James Lewis
Great Grandmother: Robin Lewis 
Great Grandmother: Barbra Freyermuth 
Great Grandmother: Nancy Temple
Great Grandmother: Susan Owens