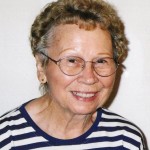 Hattie L. Dietz (Nana), loving mother, grandmother, and great grandmother was welcomed into the Kingdom of Heaven on August 21, 2014 at the age of 95 in Texas City, Texas. She was born on March 18, 1919 in Sealy, Texas. She was a very loving and caring person and she touched the lives of many; she always had a smile no matter the situation.
Hattie was preceded in death by, her husband; Arthur Dietz, Sr., her parents; Joseph and Vlasta Schiller, her brothers; Edwin, Lawrence, Melvin, and Melton Schiller, her sisters; Nadine Dowdy, and Earline Goebel, and her step-daughter Sue Giggey. She is survived by her daughter, Tasha Garza and her step-son, Arthur Dietz, Jr., her sisters; Gladys Leatherwood, Waldine Jones, and Joyce Johnstone, her brother; Wilbur Schiller and his wife Dorothy, and her brother in-law and friend, Adrian Dowdy. Hattie is also survived by her grandchildren, Kelly Mullens, Kritine Juarez, Carol Giggey, Evan Garza and Caitlyn, six great-grandchildren, and many nieces and nephews.
A graveside service will be held on Tuesday, September 2, 2014 at 10:00am at Galveston Memorial Park in Hitchcock, Texas.