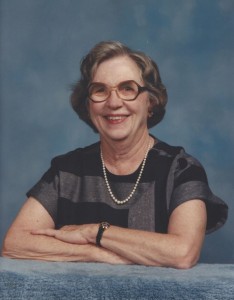 H. Eloise  Shamburger, 92 passed away July 5, 2015.  A funeral service will be held at 7pm Wednesday evening, July 8, 2015.  Her family will receive friends starting at 6pm.  She will be laid to rest next to her husband, Elbert in the Ebenezer Cemetery in Pennington, Alabama on Saturday morning, July 11, 2015.
Helen "Eloise" was the middle child born
to Marvin and Lois (Peters) Singley of Silas, Alabama. Her favorite childhood story was
how her parents used a shoe box as her incubator when she was born prematurely.
After surviving this, a snake bite and other countryside hazards, she moved to
Mobile, Alabama at the age of 19 with her younger sister, Mary Lois. There they
both worked for the Department of Defense in support of the war effort.
After
the war, Eloise attended the University of Alabama in Tuscaloosa where she
earned her bachelor's degree in 1948. She also met her husband, Elbert "Buck"
Shamburger, while attending the university. They married in August shortly after
her graduation. Eloise worked for the university athletic department while Buck
completed his education.
While in Tuscaloosa the couple was blessed with two
sons, Marcus (1951-2003) and Larry (1955). Buck and Eloise passed on to their
children not only their strong Christian faith but also an almost equally
fervent support of Crimson Tide football. Although Eloise was usually a very
tranquil person, you might hear her yelling, "Get'em!" on occasion in support of
her team.
Eloise was occupied as a full-time mother, homemaker and faculty
wife while living in Atlanta and during their early years in New Orleans. As the
boys grew up, she started substitute teaching at their elementary school. She
later worked full-time with several dermatologists. Her generous sharing with
her family of the knowledge gleaned in that medical practice led to her family
nickname of "Dr. Shamburger."
Eloise and Buck were active at First Baptist
Church of New Orleans where Buck was a deacon and Eloise volunteered in many
ways. She fondly recalled watching the Manning boys, Cooper, Peyton and Eli, in
the nursery while their parents attended the church service. She also enjoyed
playing bridge and traveling back home to family in Alabama. One of the most
memorable trips was their all-night drive to meet their newly born grandson,
Russell, in 1973.
After Buck's death, Eloise came to Houston in 1988 with
Larry and his family to start a new life. She was a loving grandmother to their
son Joshua, spending many hours walking him to the school bus stop, playing
after-school UNO games and chauffeuring to piano and swimming lessons. She
quickly expanded her circle of friends in Clear Lake with her involvement in
various volunteer organizations and in Clear Lake Baptist Church. For many
years, her social and travel calendars were indeed the busiest of any
Shamburger.
Eloise is survived by her son Larry, two grandsons (Russell and
Joshua), and two great-grandsons (Braden and Gabriel).
>> "Charm is deceptive
and beauty is fleeting, but a woman who fears the Lord is to be praised."
Proverbs 31:30