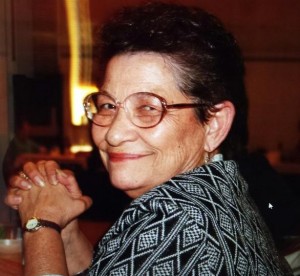 Guadalupe Castro, 74, passed away at her home in Texas City, Saturday, August 22, 2015. Guadalupe was born October 29, 1940, in Port Lavaca, Texas, to Santos and Lavina Delgado. She has been a resident of Texas City for over 55 years. MaMa Lupe loved to go dancing and spending time with her grandchildren.
Guadalupe is preceded in death by her parents, husband: Pedro Castro; four sisters: Mary Garza, Isabel Rivera, Beatrice Perez and Amelia Garza. Guadalupe is survived by one daughter: Betty Jean Messinger; two sons: Jose P. Delgado and John Garcia; two sisters: Stella Garza and Lillie Valderramas; brother: Santos Delgado Jr.; seven grandchildren: Jose P. Delgado Jr., Brandi Messinger, Angel Messinger, Derek Messinger, Michael J. Garcia, Jeremy D. Garcia, and Jennifer Mackechney; and six Great Grandchildren.
Visitation will be held from 5:00 pm to 8:00pm Thursday, August 27, 2015, at James Crowder Funeral Home, La Marque. Services will be held at 10:00 am, Friday, August 28, 2015, at the funeral home. Interment will follow at Mount Olivet Catholic Cemetery, Dickinson, Texas.
In lieu of flowers donations can be made in her honor to the Boys and Girls Club.