Granville "Jim" McConnell Jr.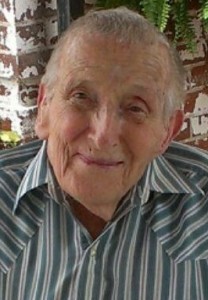 Granville "Jim" McConnell Jr. was born on October 11, 1922 in Meadville, PA and passed away in Manvel, TX October 23, 2015. He met the love of his life, Jean E. McConnell, and married her in 1952. Jim joined the Army at age 17, then the Air Force; once he ended his service, he went to University of Michigan and received his Bachelor's and Master's Degrees. Jim was a Math and Science Junior High teacher in the Michigan Dearborn School District.  He was Episcopalian growing up, but became a Presbyterian for his wife.  He loved his family and was very active in The Lion's Club, Masons, and Disabled American Veterans.
 Jim is preceded in death by his wife, Jean E. McConnell; brothers: Lloyd and Thomas McConnell; and sister, Emma Jane Sells.
He is survived by his daughters: Debbie McConnell and Pam McConnell, son-in-law Art Varnes; and son, Scott James McConnell, daughter-in-law Linda; grandchildren: Kevin James McConnell and Bryan Ron McConnell; and sister, Mary Ann Fischer.
 There will be a gathering in honor of Jim at The Pearland Lion's Club, 3350 S. Main St., on Thursday, November 5, 2015 at 6:30 to 8:00 pm.