Glynn 'Guykie' Wayne Buchanan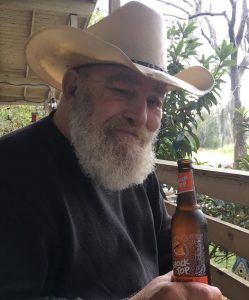 Glynn 'Guykie' Wayne Buchanan went peacefully home on his ship to heaven with family at his side on July 29, 2019.  Glynn was born on August 15, 1949, in Sugar Land, Texas.  He joins other members of Clan Buchanan: his father, MK 'Buck' Buchanan; mother, Marjorie 'Marge' Wappler Buchanan; brother, Timothy 'Tim' Buchanan.
He is survived by his loving wife, Valerie Buchanan; son, Kyle Lowke and wife Jeanne; son, Vance Goodwin and wife Janette;  6 grandchildren, Brock, Kelsey, Deven, Archer, Sage and Leila; brother, Daryl Buchanan and wife Jill; nephew, Zachary Buchanan and wife Heather; niece, Caileigh Buchanan; and many other loving family members.
Glynn was a true cowboy.  He loved his family and his best girl (dog), "Ice".  He loved riding horses and bulls.  He served his country honorably as a Navy man during the Vietnam War.  As a baseball catcher, football player, rodeo cowboy, rescue scuba diver, motorcycle enthusiast and small aircraft mechanic, he lived life to the fullest.  His family will tell you that sitting down to a big 'ole bowl of ice cream made his day.
A Celebration of Life will be held at 2:00pm in the St. Thomas of Canterbury-Houston, 14007 South Freeway, Houston, Texas 77047, on Saturday, August 24, 2019 followed by an Ice Cream Social reception.  Friends are welcome to join his family that evening at a Gathering from 5:00 – 8:00pm at Cheers Pub, Friendswood, Texas, to salute our Guykie.  To honor his Scottish heritage, we invite you to wear tartans.
In lieu of flowers, donations may be made to the Damon Little League. PO Box 255, Damon, Texas, 77430. (Please memo #8 or GWB on donation.)