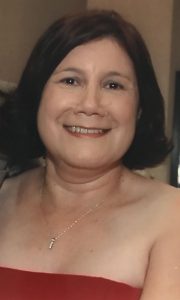 Gloria Serda, 68, of Texas City passed away on Wednesday, October 25, 2017.
She was born on April 15, 1949 in Texas City to Valentine and Carmen Orozco.
Gloria was a lifetime resident of Texas City, a member of St. Mary of the Miraculous Medal Catholic Church and worked for 15 years at the Galveston County Tax Assessor & Collector Office as a Tax Clerk.
She is preceded in death by her parents.
Gloria is survived by her daughter and son-in-law; Lori Ann Serda Faour and Patrick of Texas City, son and daughter-in-law; Robert Serda Jr., and Stacey of Texas City, two sisters Angela Garcia and Mary Lou Capetillo both of Texas City and her brother Domingo Orozco of Texas City, her four grandchildren: Alyssa Faour, Robert Serda III, Scott Serda and Peyton Faour.
Visitation will be held at the Crowder Funeral Home in Dickinson on October 30, 2017 from 6:00pm-7:00pm. A Memorial Service will be held at 7:00pm on Monday, October 30, 2017 at the Crowder Funeral Home in Dickinson with Deacon Steve Mistretta officiating.