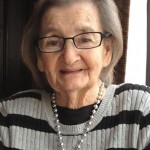 Gloria (Broquet) Berger, 84 passed away peacefully on June 24, 2014 at Winchester Lodge in Alvin, Texas.
Born Oct. 1, 1929 in San Diego, Texas, she married Laurence R. Berger on Jan. 17, 1946. Starting their family in Texas and later moving to Michigan, they had 13 children together. After a number of years they divorced and Gloria moved back to Texas to work and raise 5 children as a single mother.
Later retiring from UTMB where she worked in Housekeeping and was frequently asked by the Doctors to assist as an interpreter. She was a long time resident of Galveston and enjoyed visiting her family in Michigan, music and dancing.
Gloria lost a baby boy in 1946 that lived only 3 days, and another son, Laurence R. Berger, Jr. in 1987 at the young age of 26.
Also preceded in death by her loving brother, Francisco Broquet (Uncle Frank) of Hitchcock, TX.
Gloria is survived by her children, David & Mary Berger, Pat & Paul Duby, George Berger & Barb, Frank Berger, Betty & Jack VanderMeulen, Shirley & Linsy Simons, Sarah Klenke & Rex, Roger Berger & Becky, Robert Berger, Barb & Hector Perez and Richard & Lorie Berger. She is also survived by many Grandchildren and Great Grand Children.
Gloria's final wishes were to be cremated. A Memorial visitation will be held Thursday, June 26, 2014 from 6pm-8pm at Crowder Funeral Home in La Marque. Memorial service will be at 6:00pm at the funeral home with Dr. David Smith officiating.