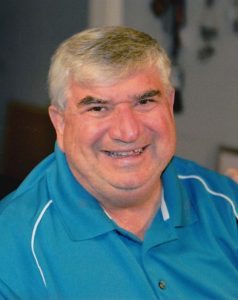 Glenn John Moloney, 61, of Clear Lake, Texas, passed away Tuesday September 12, 2017. He was born November 3, 1955 in Bayonne, New Jersey.  He earned his engineering degree from Stephens Institute of Technology in Hoboken, New Jersey.  Glenn was a loving father, husband, and a great friend to all that knew him. He could always be counted on to solve a problem or help a friend. Glenn continued to work as a consultant for ExxonMobil after his retirement in 2013, where he has enjoyed working as a chemical engineer for many years.  He was an avid sports fan that enjoyed supporting his favorite teams, the Rockets, Astros, Texans, New York Mets and the New York Giants.  He also enjoyed spending time with his family vacationing in the summer on Florida beaches and visiting in New Jersey.  Above all Glenn most enjoyed loving his children, from cheering loudly at soccer games, and helping with his daughter Colleen's school projects, to grilling and watching new movies with his son Jonathan. Glenn was a man of many accomplishments throughout his lifetime in addition to numerous special projects with Exxon, he also enjoyed volunteering and helping others with Meals on Wheels.  Glenn was a member of St. Paul Apostle Catholic Church in Nassau Bay.
Glenn was preceded in death by his parents, John and Angelina Moloney of Bayonne New Jersey. He is survived by his wife of 27 years, Lynn Moloney, and their children Jonathan Moloney and Colleen Moloney of Clear Lake; sister Karen Moloney of Bayonne, New Jersey; sister-in-law Terry LeBrock of Baytown, Texas, and brother-in-law Don Matthews and wife, Misty of Marshall, Texas; cousin, Joyce Lauria, husband Frank, and their children Mitchell and Jonthaun of Rumson, New Jersey; nieces, Erin LeBrock, and Taylor LeBrock of Baytown, Texas; .
Visitation and Rosary will be conducted 6-8 p.m. Sunday September 17, 2017 at Crowder Funeral Home 111 East Medical Center Blvd, Webster, Texas.  Funeral Service will take place 10 a.m. Monday September 18, 2017 at St. Paul the Apostle Catholic Church, 18223 Point Lookout Dr, Nassau Bay, Texas followed by a lunch for friends and family.