Glenn Clayton Gillaspia, Sr.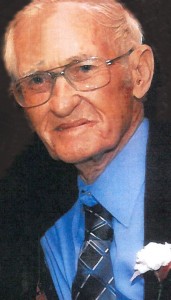 Glenn Clayton Gillaspia, Sr. 88, passed away on the evening of Thursday, April 2, 2015 surrounded by his family. He was born in Bellview, Texas on October 19, 1926 to Pearl and George W. Gillaspia. Glenn came to Galveston in April of 1947 looking for work; it was here that he met his loving wife to be, Pauline Robison. Pauline and Glenn were married on a cold rainy night in January of 1949. In 1955 they bought a home in La Marque and started their family. Together they had three sons and one daughter.
Glenn is preceded in death by his mother and father, and his brothers; Troy Gillaspia and Ira Gillaspia. He is survived by, his wife of 66 years; Pauline, children; Jacquelyn Stacy of Santa Fe, Glenn Gillaspia, Jr. and wife Mary of Dickinson, Michael Gillaspia, Sr. and wife Shelley of League City, and Paul Gillaspia and wife Rose of La Grange, sister; Wanda Allen, brothers; Zerl Gillaspia and Jerry Gillaspia, 15 grandchildren, 28 great-grandchildren, and one great great-grandchild.
A graveside service will be held on Monday, April 6, 2015 at 10:30am at Galveston Memorial Park in Hitchcock, Texas. There will be a Celebration for the life of Glenn Gillaspia at the First Baptist Church in Dickinson (2504 44th Street, Dickinson, Texas 77539) on Monday, April 6, 2015 starting at 11:30am.
Pallbearers will be Glenn Gillaspia III, Michael Gillaspia, Jr., Marcus Gillaspia, Daniel Gillaspia, Brandon Kendrick and Russell Gillaspia.