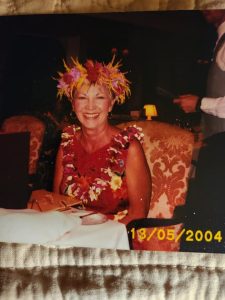 Ginger Sue Stone Cowan, 77, a 50 year resident of La Porte, TX, ascended to Him and the Heavens on December 2, 2022 in La Porte, TX, surrounded by family after a long illness.
Ginger was born on October 23, 1945 to Wilbur Hatton Stone and Naomi Idelle (Blair) Stone in Orange, Texas. Ginger was predeceased by her parents; Aunt and Uncle Ernestine and Millard Croft; brother, Wilbur Alan Stone and sister in law Naida (Bailey) Stone; cousin Keith, and long-term partner until his passing, E.T. Flippo.
Left to cherish her memories are her daughters: Jeanie Cowan of La Porte, TX and Kapolei, HA; and Jamie Cowan Orlando and husband J. Andrew Orlando of League City, TX, grandchildren Madeline Lucille and James Stone (Stoney); her ex-husband, Johnie Cowan; paternal Croft cousins; grandchildren by marriage of her daughter, Jamie; and a host of very special friends, including Bill and Betty.
After her parents' deaths in 1959, she went on to live with her aunt and uncle, Ernestine and Millard Croft and cousins until she graduated from South Houston High School in 1964.  She then went on to earn her BS in Merchandising from Texas Tech University.  After marrying Johnie Cowan in May of 1968, they moved to Tacoma, Washington upon his Army enlistment in June of the same year. While in the Army, Ginger and Johnie enjoyed playing bridge and bowling.  After his discharge, they settled in the La Porte, TX area and continued to bowl in a LP bowling league to which, Momma bowled a 205 while 5 months pregnant. Ginger briefly worked as a bank teller while raising their 2 young girls.  Later, she went on to work as the Product Distributor for Rohm and Haas Chemical Plant until her retirement shortly after the birth of her first grandchild.
After joining her aunt and uncle, Ginger became active at Queens Road Baptist Church.  She joined a tight knit group of teens who would be a source of friendship, spiritual support, and social belonging for her remaining high school years.  In the early 60s, teenage life was sleepovers at the church Fellowship Hall, near daily activities at the church and "cruising" around Houston, as well as monthly bridge nights at her BFF, Betty's house.  She attended a live performance of the Beatles with Betty.  She was a warm, fearless, enthusiastic teen, making friends easily and forming lifelong bonds.
In her early 30s, Ginger enjoyed working out, playing bunko, sewing (particularly Christmas ornaments and stockings) and had a general love of Indian art and jewelry.  In her retirement years, she found comfort and peace in taking care of her grandchildren, gardening in which she had an incredible green thumb, painting, reading suspense/mystery/religion, jewelry making, antique furniture/clothes shopping with friends, lunching with childhood friends, and puzzles. She thoroughly enjoyed decorating for all occasions and entertaining and making others smile.  She found a profound happiness in taking care of her grandchildren and celebrating any and all holidays/accolades with them. Towards the end, she was intensely involved in the tennis watching world as well as all things mysterious and unknown yet intriguing.
Our Queen/Matriarch/Gigi/Sister/Friend will always be remembered as the strongest, most fearless, vibrant, and purest of souls, compassionate to a fault, and empathetic to all individuals.  She touched everyone she met! Once she touched a heart, they were never forgotten and with that knowledge her family settles…for her legacy of a kind and gentle spirit remains with us through her.
Her body couldn't do what her mind continued do in her last days but God granted her mercy that we all prayed for.  Praise to be Him, our merciful God. Amen!
Gigi, our sweet Angel in Heaven, we love you to the moon and back and then infinity!
God Saw She Was Getting Tired
God saw she was getting tired
And a cure was not to be.
So He put His arms around her
And whispered, "Come with Me."
With tearful eyes we watched her suffer
And saw her fade away.
Although we loved her dearly,
We could not make her stay.
A golden heart stopped beating,
Hard working hands to rest.
God broke our hearts to prove to us
He only takes the best.
Author Unknown
In lieu of flowers, please make donations to your charity of choice in remembrance of Ginger Stone Cowan.
No formal memorial or funeral will take place as her wishes were for a cremation.  A private burial will take place at a later date in Sterling City, Texas alongside her parents and brother.