"Ginger" Jimmie Leigh Ford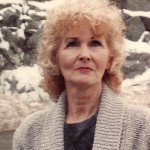 "Ginger" Jimmie Leigh Ford completed her life on earth August 1, 2014 when her frail body could no longer continue. She was born June 3, 1927 in Splendora, Texas and after graduating high school she moved to Galveston where she worked at American National Insurance Company. She married Roy Ford on Valentine's Day 1948 and raised three children before retiring in 1992; at the time of her retirement she was a supervisor in the Mortgage Loan Department. Following her retirement Ginger traveled occasionally but generally remained close to her family to help care for her mother.
Ginger was the daughter of Ida Mae (Vann) and James David Parker, both deceased. She is survived by husband Roy Ford, daughter Deborah Ford, daughter Sharon and husband Ralph Delanoix, son Mike Ford and partner Michael Shaver, granddaughter Rachel Delanoix, granddaughter Catherine and husband Cresendo Delanoix, great granddaughter River Delanoix, sister Beula Mae Dunham, sister Gladys Mullen, brother David and wife Peggy Parker, and several generations of nieces and nephews.
Those who knew Ginger will remember she was a stylish, witty, and generous soul. A consummate lady, she made others feel important and was always willing to help her friends and family. She had a special love of poetry and wrote hundreds of poems that she would occasionally share with those close to her. Her sweet nature and wisdom will be greatly missed by her family. Respecting her wishes, Ginger will be cremated. A memorial service will be held on August 7, 2014 at the Crowder Funeral Home in Dickinson. The family will receive friends from 11:00 a.m. to noon and the memorial service will be at 12:00 noon. Ralph Delanoix will officiate. The family thanks the HCT hospice team, particularly Nurse Trish Alvarez. If you wish, in lieu of flowers, please make a donation in Ginger's name to HCT or to your local animal shelter.