Gilberto Gonzalez Cristan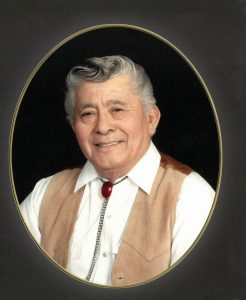 Gilberto Gonzalez Cristan (82) of Alvin, Texas, passed away on Sunday, November 4, 2018 in Webster, Texas. He was born on September 3, 1936 in Gregory-Portland, Texas to Otillia and Ygnacio Cristan. Formerly of La Marque, Gilberto had lived in Alvin for the last 18 years.
Gilberto is preceded in death by his mother and father. He is survived by his loving wife, Jean; three daughters and two stepdaughters, Katy Zurenko and husband Chris of Texas City, Cynthia Whitaker of Austin, Patricia Cristan of Galveston, Bobbi Blakely and Bill of Dickinson and Donna White of Arizona; two sons and two stepsons, Gilberto Cristan, Jr. and wife Joanie of Livingston,  Cris Cristan and wife Debi of La Marque, Mike Skillman of Katy and Russell Skillman and wife Susan of Webster; one sister, Tillita Hernandez and husband Buddy; one brother, Rogelio Cristan of Gregory-Portland; and numerous grandchildren, great-grandchildren and great-great-grandchildren.
A visitation will be held on Thursday, November 8, 2018 from 5:00 – 7:30pm with the vigil service and rosary at 7:30pm at the James Crowder Funeral Home in La Marque, with Father Chacko Puthumayil officiating.
In lieu of flowers, memorial may be made to the charity of your choice.