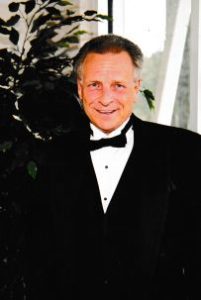 Gilbert Wayne Rowe, Jr. (Wayne) passed peacefully in his sleep into the loving arms of the Lord on Saturday, February 19. Wayne had been recovering from leg surgery after a recent fall.Wayne was a longtime resident of Clear Lake City, where he worked and where he and his beloved wife Glenda raised their family. Wayne was a devoted husband, father and grandfather and was cherished by all.Wayne was born in Alexandria, Louisiana on January 1, 1940 to Gilbert Wayne Rowe, Sr. and Margaret Rose Rowe (Van Asselberg). He graduated from Menard Memorial High School, a catholic boys' high school operated by the Brothers of the Sacred Heart. During those high school years he was blessed to meet the love of his life, Glenda Raye Raymond, who was attending Bolton High School. Wayne and Glenda entered college at McNeese State University in Lake Charles, Louisiana and married on August 20, 1960.After graduating from college, Wayne was commissioned as a 2nd Lieutenant in the U. S. Army. He and Glenda moved to El Paso, Texas where he completed two years of service at Fort Bliss. Wayne then began his over 40 year career in the defense and space contracting business. He and Glenda transferred to several cities – Alamogordo, New Mexico; Slidell Louisiana; Beltsville, Maryland  – and then to Clear Lake City, Texas.  Wayne held several leadership positions during his career, most notably as the manager of the Mission Control Computer Center at the Johnson Space Center. He retired in 2003 and they moved to Willis, Texas on Lake Conroe.Along this more than 40 year career, Wayne and Glenda (who taught high school math) raised their beautiful family and supported their children in numerous activities.  They also found time to enjoy their favorite activities – playing bridge and square dancing. Wayne and Glenda also enjoyed traveling, especially cruising; Hawaii, Alaska, Europe, the Panama Canal and Mexico were destinations they visited.
Wayne is preceded in death by his parents, Gilbert Sr. and Margaret, and his beloved wife, Glenda. He is survived by children – daughters Michelle McKernan (Wayne), Melissa Rowe, Melanie Jakubik (Randy) and son Wayne Eugene Rowe. Wayne is survived by brothers Harold Rowe (Sandy) and Michael Rowe (Sheila). His loving grandchildren are Rachel Elizabeth McKernan (Cody), Caitlin McKernan, Kyle Jakubik, Abigayle Jakubik, Nolan Jakubik and Wayne Elliot Rowe. Wayne is also survived by nephews Brian Rowe, Kevin Rowe, James Rowe and their families and niecesCathy Pearson and Rene' Weeks and their families
The family is deeply appreciative of the outpouring of sympathy from the many friends and colleagues of Wayne and Glenda. The sentiments and recollections are uplifting and comforting.
A Celebration of Life will be held at Crowder Funeral Home, 111  E Medical Center Blvd, Webster, TX on February 28, 2022 at 3:00pm.
In lieu of flowers the family suggests a gift to one's favorite charity or to the Alzheimer's Association in memory of Wayne and Glenda Rowe.