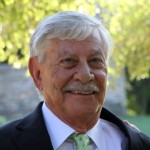 Gerald Weiser, 80 of Cypress passed away Tuesday, October 07, 2014. He was born April 12, 1934 in Galveston, Texas to Goldie Bronstein and Aaron Harry Weiser, Sr.
He lived in Cypress and was formerly from Galveston. Gerald worked for Brown & Root for over 30 years.
Gerald is preceded in death by his parents and sister, Minette San Roman.
He is survived by his daughter Edith Monreal (husband Alex); sons: Ronald Weiser (wife Sue Anne), Gerald "Jerry" Weiser Jr. (wife Linsey) and Brent Weiser (wife Shelly); sisters: Sophie Smith and Joyce Gonzalez; brothers: Melvin Weiser (wife Thiry), Harry Weiser Jr. (wife Ronnie) and Lawrence Weiser (wife Lois); 9 grandchildren and 5 great grandchildren.
Visitation will be Saturday, October 11, 2014 from 11:00am – 1:00pm at the James Crowder Funeral Home in La Marque. Funeral Service will be at 1:00pm on October 11, 2014 at the funeral home. Burial will follow at Galveston Memorial Park in Hitchcock, Texas.
Pallbearers will be Alex Monreal, Jaime Monreal, Johnathan Weiser and Jason Weiser. Honorary Pallbearers will be Joseph Williamson, Paul Welch, Frank Wells, Darrell Weiser and Jeremy Allen.