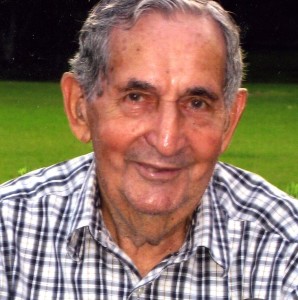 George Zganich, 91, passed away Wednesday, August 17, 2016, surrounded by his family in the home he built in Santa Fe.  George was born on April 8, 1925, in Pittson, PA, to George and Mary Zganich.  He proudly served in the U.S. Navy during WWII.  While stationed in Galveston he met Carmen Morales, and this past June 16, 2016, they celebrated their 70th Wedding Anniversary.  George worked as a cement mason for Local 177.  He loved spending time with his family especially his grandchildren and great grandchildren.
George is preceded in death by his parents, seven sisters, and a great granddaughter.  Survivors include his wife, Carmen, their four daughters and their husbands, Norma and Steve Spaulding, Patsy and Jim Knight, Lorraine and Johnnie Garza, and Joanie and Mark O'Daniel.  Eight grandchildren, Randa Scott, James Knight, Tyler Spaulding, Meredith McCutchen, Georgeanne Fayrweather, John Garza, Christopher O'Daniel, and Timothy Garza, and 12 great grandchildren.
In lieu of flowers, donations may be made to:
St. John Chrysostom Byzantine Catholic Church
5402 Acorn Street,
Houston, Texas  77092
The Arthritis Foundation
4550 Post Oak Place Dr., Suite 307
Houston, Texas  77027
A visitation in his honor will be held on Saturday, August 20, 2016, 10 am to 11 am, with a rosary at 11 am, with a funeral liturgy following at 11:30 am at Our Lady of Lourdes Catholic Church, Hitchcock, with Father Elias Rafaj presiding.  Interment will follow at Mt Olivet Catholic Cemetery, Dickinson.