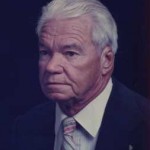 George W. Evans, longtime resident of Bacliff, passed away on Sunday July 6, 2014. George was born May 13, 1921 in Terrell, Texas. In 1938 he graduated from Reagan High School. In 1942 George joined the Army Air Core. After serving our country he returned to Houston to run the Family Grocery Store. In 1949 George became a member of Gray Masonic Lodge #329. As a mason George served in several offices. In 1956 George became the Worshipful Master. In 1960 George was appointed District Deputy of Masonic District 30-B. He also became a member of the League City Masonic Lodge and the Blue Bell Chapter.
George is survived by his son, Joseph Evans and his fiancée Danna Jennings, daughter, Mary Evans Hoepfner and her husband Todd. Four grandchildren, Joe Evans, Melissa Hudgens, Kyle Hoepfner and Drew Hoepfner. Five great-grandchildren, Alyssia, Drake, Kaitlynn, Kollinn and Kellinn. Niece Linda Logan and her husband Jim.
Visitation will be on Tuesday July 8, 2014 from 6 p.m.-8 p.m. at Crowder Funeral Home in Dickinson, Texas. Graveside service will take place on Wednesday July 9, 2014 at 10:00 a.m. at Woodlawn Cemetery in Houston, Texas.
In lieu of flowers, please make donations to Shriners Hospitals for Children.