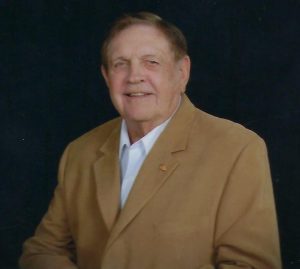 George Vance Hunter, Jr., 93, a resident of Friendswood, Texas, passed from this life on Tuesday, April 18, 2023. George was born to parents, George Vance Hunter, Sr. and Iva Mae Hall Hunter on February 2, 1930 in Wills Point, Texas.
He grew up on a farm until he was 12 years old and moved into town while his father served in the Army Air Corp. His family moved to Texas City in 1946 where he attended Texas City High School and graduated in 1949. After graduation, he went to work for Union Carbide Corporation.
In December of 1950 he volunteered for the U.S. Air Force for 4 years, serving 32 months in England. He proudly served his country in the United States Air Force during the Korean War. In 1958 he joined the Texas Air National Guard, serving 22 years, giving him a total of 26 years Military Service. George retired from the Military as a Master Sergeant.
George worked as a purchasing agent at Union Carbide for thirty-six years before his retirement. He served 27 years on the Board of Directors for Carbide Employees Federal Credit Union and served as President in 1983. After retirement, he attended College of the Mainland and received his realtor license and worked in real estate for 3 years. George was then recalled to Union Carbide several times to work on special projects in the Benefits and Purchasing departments.
George enjoyed playing sports, especially baseball, basketball and golf. While in the Air Force, he played on the basketball and baseball teams, traveling to other bases in England. The basketball team traveled to Paris, France in December 1953 to play an American team. George didn't start playing golf until he was 37 years of age and had a low handicap of 7 at one time. He and a friend went to Myrtle Beach, South Carolina for 9 years to play in the Dupont World Amateur. Later, several of his friends traveled to Myrtle Beach as well to play in the tournament. George played golf until he was 91 years old, still giving strokes to his friends, and loving every second of it.
On June 23, 1956, he married the love of his life Sylvia Jean Penry Hunter. They loved to dance, attend dinner parties, and be with their friends and family. Together they joined Dickinson First United Methodist Church,      which George cherished dearly and faithfully attended for approximately 50 years. George also volunteered at Space Center Houston from 2011-2022. He truly loved greeting guests and got joy from meeting people from all over the world.
To know him, was to love him. He possessed such a positive outlook on life and always spoke kindly of those around him.  George was a selfless, kind, and nurturing man; he will always be remembered that way.
George is preceded in death by his parents, his sister Charlotte Hunter Cotharn, and by his loving wife of 63 years, Sylvia Jean Penry Hunter.
He leaves behind to treasure his life, his two sisters, Martha Hunter Scoggins and Barbara Hunter Flanagan; daughters, Tamara Jean Syers (Mark) and Danae Anjanette Carlisle (Charles); grandchildren, Madison Nicole Syers, Anjanette Lee Carr (Aidan), and Blake Henry Carlisle.
In his honor, there will be a visitation on Sunday, April 23, 2023 from 1:00pm to 3:00pm at Crowder Funeral Home in Dickinson, Texas.  A memorial service will be held on Monday, April 24, 2023 at 1:00pm at Dickinson First United Methodist Church in Dickinson, Texas.
In lieu of flowers, please consider donating to the National Multiple Sclerosis Society, the American Diabetes Association, or Dickinson First United Methodist Church in Dickinson, Texas.